politics
South Korea Fires Warning Shots at Flying Object From North
By
Military still analyzing flight path of unidentified object

North Korea drone last crossed border in January 2016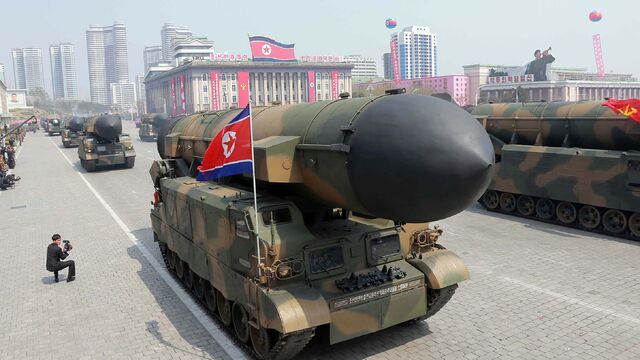 South Korea's military fired warning shots across the military demarcation line at an unidentified object flying on Tuesday afternoon, as tensions remained high on the peninsula days after another North Korea missile test.
The military is analyzing the object's flight path, South Korea's Joint Chiefs of Staff said in a text message. Yonhap News reported that South Korea fired about 90 machine gun rounds across the border, and was checking whether the object was a drone.
Drone incursions have increased in recent years. In January 2016, a drone crossed the demarcation line, according to a Defense Ministry white paper released last year. "In March and April 2014, small-sized drones believed to be from North Korea were found" in Paju, an island near the western sea border and the city of Samcheok, the report said.
Kim Young-woo, the chairman of the National Assembly's National Defense Committee, said that another unidentified object flying at a different speed appeared near Paju on Tuesday morning. "There are various possibilities because different radars show different results," said Kim, who was briefed on the issue by the military. "The military mentioned that one of the two could have been a flock of birds."
Click here to read more about North Korea's nuclear ambitions
North Korea fired a ballistic missile Sunday -- its eighth such test of the year -- in defiance of United Nations sanctions and warnings from U.S. President Donald Trump. The missile flew about 500 kilometers (310 miles). Japan said it landed in the Sea of Japan and didn't reach the nation's exclusive economic zone.
U.S. Secretary of State Rex Tillerson called the ongoing testing "disappointing" and "disturbing." But he said the U.S. was in the early stages of applying economic and diplomatic pressure, and that perhaps North Korea was "acting out now in response to some of this pressure that I believe they're beginning to feel."
(
Updates with details throughout.
)
Before it's here, it's on the Bloomberg Terminal.
LEARN MORE