Shoves and Slaps in Congress as Brazil Tension Spills Over
By and
Senate session on labor reform bill suspended amid scuffles

Brazil government attempts to persue agenda despite crisis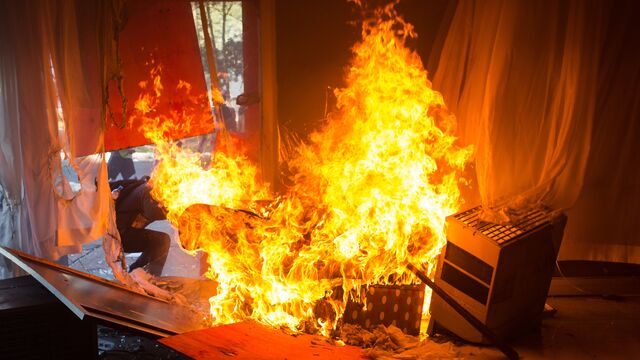 A Brazilian Senate committee hearing on labor reform has been suspended amid shouting, shoving and physical blows.
Senators on the Economic Affairs Committee were due to hear a reading of the government's bill on labor reform, but the opposition vowed to obstruct proceedings. As the situation deteriorated, opposition senators shouted anti-government slogans before eventually coming to blows with government supporters.
The scuffle in Congress reflects the sharp rise in political tension in Brazil over the past week, following the announcement of a Supreme Court investigation into President Michel Temer on charges of passive corruption and obstruction of justice. Markets sold off in the wake of the accusations, with many analysts believing that the president will not finish his term of office and that his administration's reform agenda now stands little chance of approval.
Work in Congress also ground to a halt last week when the story first broke. Since then, opposition lawmakers have filed numerous impeachment requests against Temer, as the influential bar association, the OAB, intends to do later this week. The president has repeatedly denied wrongdoing and insisted that he will not resign, while senior members of his cabinet have said that they will not let the allegations paralyze Brazil.
Later on Tuesday the president of the senate committee, Tasso Jereissati, told a plenary session of the upper house that the report should be considered read, paving the way for discussion and voting. Opposition senators once more protested the decision.
In a similar confrontation between opposition and government in the lower house, committee chairman Rodrigo Pacheco suspended debate over a proposal to allow direct general elections. He subsequently omitted the motion from the committee's Wednesday agenda. Under current law, if Temer leaves office, Congress would vote for his replacement in indirect elections.
In a minor show of support for the Temer administration on Tuesday evening, a well-attended plenary session of the lower house approved a government-sponsored stimulus bill, despite opposition efforts to disrupt proceedings.
To date, most of the government's allies have stuck with the president, adopting a wait-and-see strategy while the Supreme Court determines the authenticity of a secret recording that constitutes the most significant evidence against him.
The country will continue to pursue its reform agenda "regardless of anything" Finance Minister Henrique Meirelles said at an event in Sao Paulo on Tuesday.
But the chaotic scenes in Congress highlight the difficulty the government may face in riding out the latest scandal.
"It's difficult to separate the political crisis from the economic agenda," said Luis Covatti, a lawmaker from the government-allied Progressive Party.
Before it's here, it's on the Bloomberg Terminal.
LEARN MORE