Portugal's Centeno Hopes for Europe-Wide Solution for Bad Loans
By and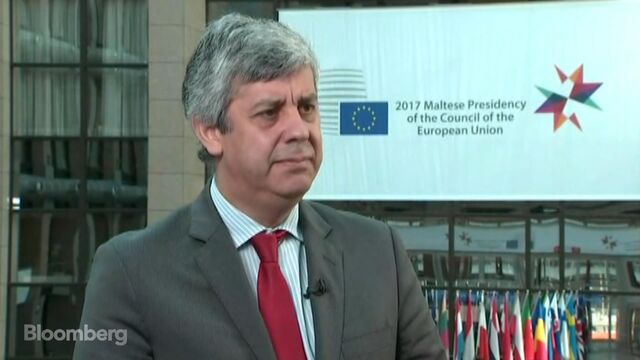 Portuguese Finance Minister Mario Centeno said he's hopeful there will be a European approach to deal with non-performing loans affecting banks in the region, and if not his country will go ahead with its own attempt to address the problem.
"We are now discussing with the European Commission, hopefully, a European-wide solution, but if not we will advance on our own on a solution for NPLs," Centeno said in a Bloomberg Television interview in Brussels on Tuesday. "It's going to be a solution that has to work with market participants, both on the supply and demand sides."
While Portugal exited its three-year international bailout program in 2014, it's still dealing with pending issues including bad loans at banks. Credit at risk at Portuguese banks has been stuck at about 12 percent of the total for the last two years. Banco Comercial Portugues SA, Portugal's biggest publicly traded bank, booked a record 1.6 billion euros ($1.8 billion) in impairments for 2016. For state-owned lender Caixa Geral de Depositos SA, impairments and provisions totaled 3 billion last year.
Centeno said on March 29 that Portugal estimates that about 5 billion euros may be enough to address the "big problems" in terms of non-performing loans hampering the country's banks. The government is "envisaging creating a systemic solution that on the basis of a voluntary reaction from the banks to join the solution, will bring in new private capital," he said at the time.
Before it's here, it's on the Bloomberg Terminal.
LEARN MORE