North Korea Missile Test Seen as Step to Put U.S. in Range
By and
Defense Intelligence Agency offers first official assessment

Russia plans three new rifle divisions at the Ukrainian border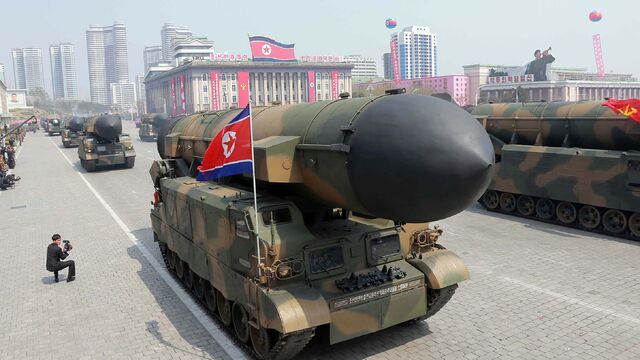 North Korea moved one step closer to its "inevitable" goal of developing a long-range, nuclear-armed missile to directly threaten the U.S. through a successful test this month, according to the Pentagon's intelligence service.
The regime in Pyongyang "successfully launched" a ballistic missile during a test May 13 from western North Korea, landing in the Sea of Japan, Marine Lieutenant General Vincent Stewart, director of the Defense Intelligence Agency, said in prepared remarks for a hearing on worldwide threats Tuesday before the Senate Armed Services Committee. It was the first public U.S. intelligence assessment of the May 13 launch.
"North Korea is an antagonistic state actor and remains a critical security challenge for the United States," Stewart said, citing two probable nuclear tests and an unprecedented number of ballistic missile launches last year. On Sunday, Kim Jong Un's regime fired off another medium-range ballistic missile, the country's eighth test this year.
A key shortcoming so far for Kim Jong Un's regime is ensuring an intercontinental ballistic missile survives reentry into the atmosphere, the DIA head said.
"They understand the physics, it's just a matter of design," Stewart said in the hearing.
According to the DIA, last year North Korea flight-tested more than a dozen theater ballistic missiles as well as its submarine-launched ballistic missile system and launched a satellite into space. Earlier this year, the country launched what it claimed was a land-based variant of its submarine-launched ballistic missile and paraded a variety of missiles, including some new systems.
"Taken together, these activities highlight Pyongyang's commitment to diversifying its missile forces and nuclear delivery options while strengthening missile force survivability," Stewart said.
Read More About North Korea's Quest for Nuclear Weapons
Director of National Intelligence Dan Coats said at the start of the Senate hearing that the missile test showed capabilities "short of an ICBM," consistent with an initial analysis done soon after the North Korean test.
Nevertheless, Navy Commander William Marks, a Defense Intelligence Agency spokesman, said in an email, "If left on its current trajectory, the North Korean regime will ultimately succeed in fielding a nuclear-armed missile capable of reaching the West Coast. It's impossible to predict when they'll get there, but the regime is on a path where this capability is inevitable."
The country also continues to increase its stockpile of weapons-grade fissile material and improve its ability to launch rapid, small-scale attacks against South Korea, Stewart said.
Russia's Military
Elsewhere, Stewart raised concern around Russia modernizing its military. That includes naval upgrades focused on Moscow's submarine fleet and "equipping surface and subsurface vessels with Kalibr land-attack cruise missile systems," he said.
Russia also plans to overhaul its aging aircraft by procuring new Su-34 and Su-35S multirole fighters and unmanned aerial vehicles, as well as upgrades to airframes, technological components and munitions for the fighter and strategic bomber forces, Stewart said.
Moscow also is resuming production of the Soviet-era Tu-160M2 strategic bomber to supplement "its aging bomber force, and it is modernizing the Tu-95MS bomber to launch Kh-101/102 cruise missiles," he added.
In Ukraine, Russia is establishing three new "motorized rifle divisions" near the border, Stewart said.
Warning Time
"The basing of division-sized formations along Russia's western periphery will reduce the warning time for NATO to respond to Russian incursions into neighboring states," Stewart said, "while at the same time providing Russian leaders greater flexibility, political leverage and combat power for force generation in a crisis."
Russia also is seeking to enhance its strategic nuclear forces, focusing on land-based intercontinental ballistic missile upgrades, with "modest improvements to both strategic air and naval capabilities," Stewart said. Russia has completed more than half of its planned road-mobile force upgrades, with SS-27 Mod 2 ICBM deliveries to four divisions, and aims to complete rearming its entire ICBM inventory with new systems by 2022.
"Development of the silo-based RS-28 ICBM continues with engine and warhead tests, and we expect the first test launches by 2018," Stewart said.
Before it's here, it's on the Bloomberg Terminal.
LEARN MORE