NATO's Image Improves on Both Sides of Atlantic, Survey Shows
By
Pew Research Center poll says 62% of Americans back alliance

Report released as Trump prepares to attend May 25 NATO summit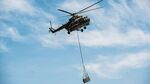 While U.S. President Donald Trump may have doubts about the North Atlantic Treaty Organization, Americans and Europeans increasingly support the security alliance, according to a new survey.
Majority backing for NATO has grown over the past year in the U.S., Canada, Germany, the Netherlands and Poland, the Washington-based Pew Research Center said in a survey released on Tuesday. In France, after a "steep decline" a year ago, most people again view the 28-nation alliance favorably, according to the opinion poll published two days before Trump is scheduled to attend his first NATO summit.
"Roughly six-in-10 Americans -- 62 percent -- hold a favorable view of NATO," the Pew Research Center said. "Such sentiment has improved nine percentage points in the last year. This represents the strongest U.S. support for the trans-Atlantic security alliance in recent years."
As a candidate in the U.S. presidential election last November, Trump called NATO "obsolete" and sowed doubts about whether the U.S. would respect its commitment to defend other alliance members in the event they were attacked. Since then, the Trump administration has urged NATO to do more against terrorism and pressed allies to step up defense spending.
QuickTake Q&A: Why Trump's Arming of Syrian Kurds Riles NATO Ally Turkey
"Despite such swings in how NATO has been characterized by the current U.S. administration, most Europeans remain confident that Washington is committed to the principle of mutual defense," the Pew Research Center said.
The survey was conducted among 9,761 respondents in the U.S., Canada, France, Germany, the Netherlands, Poland, Spain, the U.K. and non-NATO member Sweden between Feb. 16 and April 10. In Sweden, 47 percent of people support NATO membership compared with 45 percent in 2016, according to the survey.
Before it's here, it's on the Bloomberg Terminal.
LEARN MORE