In Jerusalem and Bethlehem, Parsing What Trump Left Unsaid
By , , and
U.S. president, not known for tact, avoided sensitive topics

Paeans to peace not matched by substantive talk of issues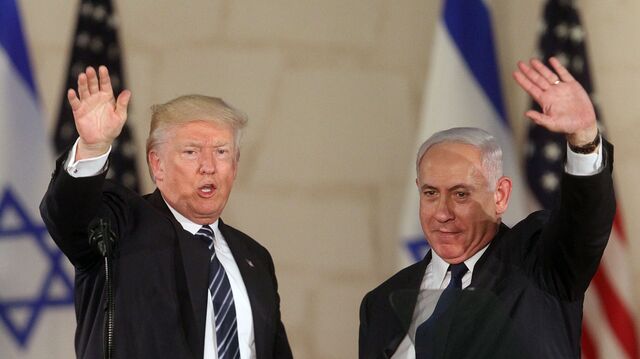 Israeli Prime Minister Benjamin Netanyahu's government wanted to hear Donald Trump announce he's moving the U.S. embassy from Tel Aviv to Jerusalem. Palestinians would have liked Trump to publicly back their aspiration to statehood. 
While it was Israel that Trump lavished most with praise, in the end neither side got all it wanted. 
During his 28 hours in Israel and the Palestinian territories, the U.S. president gave several speeches expressing his desire for peace and condemning terrorism. What he didn't say, however, was just as meaningful as what he did: No announcement of fresh peace talks, no specifics on the way forward, no comment on the competing claims to Jerusalem, no mention of a Palestinian state.
"President Trump said several times he's going to put a lot of effort into this track of trying to resolve the Israeli-Palestinian conflict, but he didn't say how," said Gilead Sher, a Tel Aviv lawyer who was Israel's chief peace negotiator in the late 1990s. "Once the ceremonies and the photo ops and the speeches are gone, we'll have to see whether this visit has really marked the start of a new process of some kind."
In the past, Trump has publicly urged Netanyahu to limit settlement-building, and has baffled observers by raising the idea of a one-state solution to the conflict that neither side supports. The lack of substance from his team on this visit could mean they still haven't figured their plans to revive the peace process, which collapsed three years ago. It could mean the famously indelicate president -- traveling for the first time to one of the most explosive parts of the world, where every word is fraught with nuance -- realized the safest way to navigate that minefield was to keep his statements deliberately vague.
Or it could be this is how the ultimate deal-maker softens up the sides, before demanding the painful compromises needed to reach an agreement.
'Hard Asks'
White House officials said Trump avoided specifics on purpose, because he had no intention of starting negotiations on Middle East peace in public. But they said that his team is quietly having substantive conversations with both sides -- and keeping those conversations private as a way to build trust.
"I think it's a choice to not create political difficulties for Netanyahu early in this process because of the strong opinions against a two-state solution in his cabinet," said former U.S. Ambassador to Israel Daniel Shapiro, who met recently with Trump's advisers. "He's testing the proposition that making a general public embrace, while making the hard asks in private, is a better way of making progress."
Read More: Why Two-State Idea for Israel, Palestine Has Faded : QuickTake.
Israel's Channel 2 television reported Tuesday night that Jason Greenblatt, the White House special representative for international negotiations, would return to Israel next week to follow up on the visit.
A succession of U.S. presidents have tried to negotiate peace between Israel and the Palestinians, whose modern-day conflict dates to the 1948 establishment of the Jewish state, and all have failed. A settlement will mean finding solutions to centuries-old issues of land, faith and race.
Energy Minister Yuval Steinitz, a confidant of Netanyahu, said he wasn't surprised by the omissions during the Trump trip.
"I was already aware that he was not going to announce the moving of the embassy during this visit," Steinitz said. Overall, though, "It was a very pro-Israel visit and speech. There was not even a mention about holding back on settlements."
Israel's claim of sovereignty over Jerusalem wasn't highlighted, even in the week that marks 50 years since Israel took control of the city's east during the 1967 Middle East War. Jerusalem is also claimed by Palestinians for the future state they want to build, and isn't recognized internationally as Israel's capital. Though he did so without any Israeli officials at his side, Trump did become the first sitting U.S. president to visit the Western Wall, wearing a yarmulke and putting a prayer note between the ancient stones.
What Wasn't Said
"The message was love, love" for Israel, but "it was what he didn't say that mattered," said Michael Oren, a parliamentarian and former Israeli ambassador to the U.S. "What wasn't said was 'Jerusalem, capital of Israel,' and we need to work so this is said in the future."
Erel Margalit, a member of parliament from the opposition Labor Party, called Trump's visit "a missed opportunity of historic proportions."
After urging Muslim nations to "drive out" extremists in their midst, Trump flew from Riyadh to Tel Aviv -- an unprecedented direct flight -- "and nothing comes out of it," Margalit said. "No declaration of two states. No three-way meeting between leaders. No assertion of the principles you need to put on the table."
Trump's hour-long visit to Bethlehem was his second meeting in a month with Palestinian Authority leader Mahmoud Abbas. Husam Zomlot, Abbas's ambassador to Washington, described their talks as "a constructive meeting between friends," adding that "for Palestine to be on the first international trip on the American president's agenda, that has a high significance." 
"The Palestinians are ready to reach for peace," Trump said once back in Jerusalem. While he knew everyone had heard it before, he said, "I'm telling you, that's what I do. They are ready to reach for peace."
Read More: Trump's Hopes for Abbas Have a Succession Problem: QuickTake Q&A.
But some Palestinians pointed out a glaring omission.
Trump "has made clear he's not interested in the two-state solution: He didn't mention it in Jerusalem or Bethlehem, and his national security adviser talks about self-determination," said Mkhaimar Abusada, a political scientist at Al-Azhar University in Gaza City. "That's not statehood."
The most noteworthy moment of Trump's Bethlehem speech was when he turned to Abbas and said, "Peace can never take root in an environment where violence is tolerated, funded or rewarded." That echoed the Israeli demand for Palestinian leaders to stop paying stipends to the families of those who attack Israelis -- as Netanyahu subsequently noted.
'Likud's Trump'
Indeed, Trump's final speech in Jerusalem was so full of praise for Israel that Science Minister Ofir Akunis, of Netanyahu's conservative Likud Party, afterward quipped to Channel 2 television that he wanted to "welcome the new member of Likud, Donald Trump."
That identification with the Zionist narrative won Trump standing ovations in Jerusalem, even as he sidestepped the question of the city's status. But Shapiro stressed that the president -- who until now has been careful not to utter the words "Palestinian state" -- will eventually have to promote the two-state approach if he wants to achieve a regional deal.
Former peace negotiator Sher gave Trump credit simply for wading so early in his term into a conflict that bedeviled his predecessors.
"'The very first big issue that President Trump is dealing with abroad is the Israeli-Palestinian conflict," Sher said. "That gives a cautious optimism as to whether it will be possible to translate those very vague" messages into something more tangible.
— With assistance by Gwen Ackerman, Fadwa Hodali, and Margaret Talev
Before it's here, it's on the Bloomberg Terminal.
LEARN MORE