How, and How Quickly, Markets React to Terrorism: QuickTake Q&A
By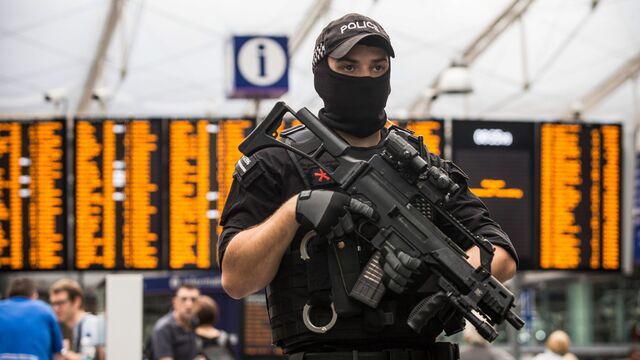 The attack that killed at least seven people near London Bridge on Saturday night was another horrifying reminder that terrorist incidents are increasingly common. And while shock and sadness from the loss are palpable, the sheer frequency of the incidents -- three in the U.K. since March -- has left financial markets largely inured to them, with fallout once measured in days now lasting just hours. For better or worse, equity markets have viewed many of the latest attacks as isolated incidents, with little long-term impact on the economic outlook of the affected areas. The day after the May 22 bombing at a Manchester arena, killing 22 people, the S&P 500 Index futures turned lower on news of the attack, only to recover in the early-morning hours as exchanges in Europe opened in the green.
1. Why the seeming disinterest in terrorist attacks?
Much of it has to do with a frequency bias. The market impact of terrorism has "continuously diminished over time," a 2013 study by the Complutense University of Madrid's Institute of Industrial and Financial Analysis concluded when looking at the period from the 9/11 attacks to the 2013 Boston Marathon bombing. That suggests "that stock markets have learned to overreact less and evaluate the real economic consequences of an terrorist attack more objectively." A study published in 2010 by European Financial Management found that terrorist attacks "produce mildly negative price effects" on stock markets that "rebound within the first week of the aftermath."
2. Some specifics, please?
Sadly, there are many. Bombings on March 22, 2016, in Brussels, saw Europe's equity benchmark slide as much as 1.6 percent in the immediate aftermath; the measure closed little changed. The Paris attacks five months earlier occurred on a Friday. When the CAC 40 Index opened Monday, it slid 1.2 percent in early trading before ending virtually unchanged. The S&P 500 Index fell on April 15, 2013, the day of the Boston bombing, but most of the losses occurred before the incident. Following suicide bombings at two Moscow Metro stations on March 29, 2010, Russia's Micex Index slipped 0.3 percent before closing 1.7 percent higher, and shares worldwide advanced. And when markets reopened two days after coordinated attacks in Mumbai on Nov. 26, 2008, the S&P BSE Sensex Index fell 1.5 percent, then erased its drop to climb 0.7 percent.
3. What about 9/11?
When the U.S. stock market reopened several days after the 2001 terror attacks on the U.S., the S&P 500 plunged 12 percent, and global equities tumbled a record 9.3 percent. But there were extenuating circumstances. The actual Wall Street in New York was affected by the destruction of the World Trade Center towers. Stocks recovered within two months.
4. What's the lesson here?
Investment decisions are generally made based on risk assessments and the prospects for economic growth. Inasmuch as terrorist attacks are one-off and not going to alter growth outlooks, markets will tend to show resilience. "In the past, the U.S. stock market has rebounded rather quickly from geopolitical events that have occurred outside America, including acts of terrorism," Tobias Levkovich, chief U.S. equity strategist at Citigroup Global Markets Inc., wrote in a note to clients following the 2015 attacks in Paris. He said the two major exceptions were 9/11 and the Japanese attack on Pearl Harbor on Dec. 7, 1941.
5. What explains the resilience?
One oft-cited argument is that investors trust central banks to respond aggressively to bad news, even if that means cutting interest rates to below zero. Another explanation is that it takes more than a one-off attack -- as opposed to sustained violent campaigns -- to change how and where people spend their money.
6. Isn't this a good thing?
That depends on your point of view. Richard K. Breslow, a former currency trader and fund manager who writes "Trader's Notes" for Bloomberg News, is troubled by people "looking for the good investing news in catastrophe." He writes, "It's quite the perversion that when bad things happen, commentators who have otherwise rather dour views on the world start searching for all the good things out there." Levkovich, in his 2015 note, wrote, "In a strange way, the world has become far too complacent about these kinds of calamities amidst other major risks."
The Reference Shelf
A 2015 Bloomberg story on global market resilience in the face of terrorism.
A QuickTake explainer on the lone-wolf terrorist.
A paper on how the U.S. Federal Reserve responds to crises.
Before it's here, it's on the Bloomberg Terminal.
LEARN MORE