Hedge Fund Basks in World-Beating Surge for Greece's Markets
By and
Athens stock index up 23% this year, double the global gauge

Greek debt could become eligible for ECB buying program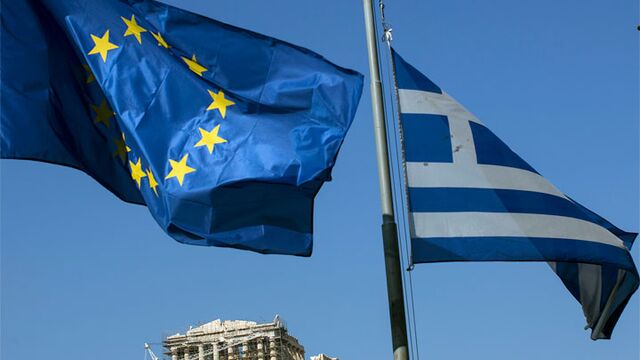 The odyssey of Greece and its economic crisis has taken a positive turn in recent months, and hedge funds are among those reaping the rewards.
Once the epicenter for the euro region's debt turmoil, Greece is now the top beneficiary of improved sentiment on Europe. The nation's stock market has a 23 percent return so far this year -- the developed world's best performer and twice the gain for the global benchmark. Similarly, its bonds are trouncing others in fixed-income markets.
Besides benefiting from global flows into a euro-region economy that's on the mend and freeish -- for now -- of political risk, Greece is in talks with European officials over debt relief. While no deal was reached this week, further work is planned in coming weeks -- potentially paving the way for Greek debt inclusion in the European Central Bank's bond-buying program.
"At the moment everything in Greece is going exactly in the right direction," said Mark Dowding, a London-based fund manager at BlueBay Asset Management LLP, a hedge fund that invests in public and private debt markets and oversees $55.5 billion. "We remain pretty encouraged. We have a significant position and we continue to run that risk." He topped up a position in longer-dated bonds earlier this year.
These charts highlight some of stellar performance in Greece's stock and bond markets:

Greece is top ranked among 24 developed stock markets tracked by Bloomberg this year. The Athens Stock Exchange General Index's 23 percent surge compares with less than 10 percent for both the MSCI All-Country World Index and Stoxx Europe 600 Index.
The bond market has flashed optimism about Greek prospects of getting a deal with the Troika of the International Monetary Fund, the ECB and the European Union -- with no major debt payment due until July. The premium on Greek 10-year notes over comparable German debt has shrunk to a three-year low.
For the latest on the Greek talks on debt relief, click here.

The potential for the rally in asset prices to unravel is too great a risk to some, with prospects for the debt-relief agreement still a question mark. Negotiations will continue in the coming weeks after a compromise offered by the eurozone wasn't deemed sufficient by the IMF. Euro-area finance ministers are aiming for a consensus on June 15, when they next meet.
"We don't think Greek stocks are appealing at this stage," said Atul Lele, chief investment officer of Nassau, Bahamas-based Deltec International Group, which has about $5.5 billion in assets under management and advice. "There's still a great deal of uncertainty regarding the ability for Greek policymakers to bring the economy to a sustainable level in terms of debt serviceability. And there are more attractive relative opportunities elsewhere, especially with the European economic expansion now firmly on track."
As this chart shows, Greece has slipped back into recession:

Even so, waning concern about Greece is apparent in the gap between its shorter-dated debt and longer-maturing notes, as this chart shows:

"If debt relief proves real, further narrowing of spreads between Greek bonds and bunds is possible," said Benjamin Schroeder, Amsterdam-based strategist at ING Groep NV. "But I'd be a bit skeptical."
— With assistance by John Ainger, Adrian Krajewski, and Aleksandra Gjorgievska
Before it's here, it's on the Bloomberg Terminal.
LEARN MORE