Ex-Jet Bryan Thomas Settles Investment Suit
By
Thomas claimed Donald Watkins defrauded him in energy firm

SEC also sued Watkins in 2016, saying he defrauded athletes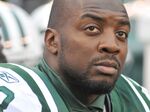 A company owned by former New York Jets linebacker Bryan Thomas dropped its fraud lawsuit against an Alabama attorney and several of his businesses as U.S. regulators pursue similar claims in another case.
Thomas is the principal and managing member of Thomas Global Group LLC, which sued Donald V. Watkins, a Birmingham lawyer who owns Watkins Pencor LLC. Thomas's company claimed it was defrauded of a $1 million investment in a waste-to-energy company. Watkins denied wrongdoing.
A federal judge in Newark, New Jersey, dismissed the case this month after the two sides settled. Watkins said in an interview that no money changed hands as part of the accord.
Bob Kasolas, a lawyer for Thomas Global Group, said his client could share in a possible recovery in a U.S. Securities and Exchange Commission lawsuit filed last year in Atlanta against Watkins and two of his firms.
"I would be bringing the same exact lawsuit that the SEC is bringing on behalf of my client and other people," Kasolas said. "There was really no need to continue pursuing our case."
The SEC claims Watkins defrauded professional athletes and other investors of millions of dollars to cover personal expenses including alimony, back taxes and credit card bills. Watkins denies the allegations and said the SEC case is "nothing more than a government-sponsored exercise in extortion."
The case is Thomas Global v. Watkins, 13-cv-04864, U.S. District Court, District of New Jersey (Newark). The SEC case is SEC v. Watkins, 16-cv-3298, U.S. District Court, Northern District of Georgia (Atlanta).
Before it's here, it's on the Bloomberg Terminal.
LEARN MORE