Everything's Coming Up Rosy in Trump Budget Economy Scenario
By
Growth seen accelerating while inflation, unemployment steady

Projections counter conventional wisdom from economists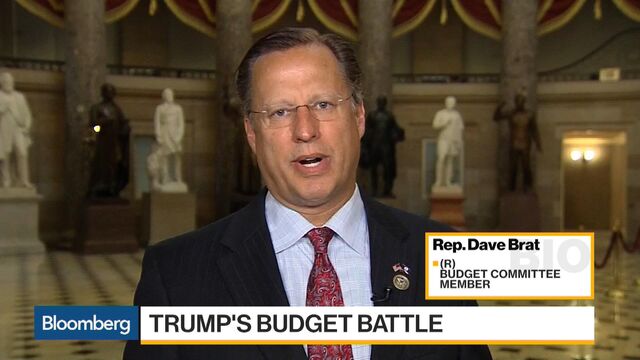 The Trump administration sees the U.S. economy achieving the rosiest of scenarios over the next decade -- a surge in growth that doesn't spark a worrisome jump in inflation or tighten the labor market any further.
Economic growth is projected to climb by 2020 to 3 percent, the Trump administration's oft-stated target, according to assumptions published Monday in the White House's budget proposal. At the same time, the unemployment rate will rise only modestly -- to 4.7 percent in the same year -- and inflation, based on the consumer price index, will be 2.6 percent this year and 2.3 percent each year for the next decade.
The tallies mark the first set of such assumptions published by the Office of Management and Budget under director Mick Mulvaney, whose administration has consistently made the case that tax reform and deregulation would help lead the way for a surge in demand. For the many economists who are already skeptical that 3 percent growth can be sustained over a long period, getting there without lowering unemployment or making prices rise faster may be an even tougher sell.
"If you think potential growth is really 3 percent, then you could have a more or less flat unemployment rate over the next decade," said Jim O'Sullivan, chief U.S. economist at High Frequency Economics in Valhalla, New York. But the recent pace of around 2 percent growth has been strong enough to push the unemployment rate down, putting pressure on the Federal Reserve to tighten, he said.
"If you're getting 3 percent growth because of a big tax cut and potential growth is really only 2 percent, then unemployment keeps falling and ultimately that causes an inflation problem and that causes the Fed to tighten and tighten and tighten and probably triggers a recession at some point," O'Sullivan said.

The very modest uptick in joblessness means that the administration may be betting on workers currently on the sidelines of the labor market, or those who want more hours, being available to pick up the jobs needed to respond to demand. For inflation, the budget gurus also may be assuming either that there's enough slack to keep prices in check if growth picks up, or that the Fed will raise interest rates sufficiently, which would also keep unemployment from falling too far.
Previously, under the Obama administration, OMB saw a similar path for inflation and a slightly less optimistic one for unemployment. Projections published in December, and based on data available as of Nov. 9, showed the agency penciling in 2.3 percent each year through 2027.
Unemployment Forecast
The Trump budget has unemployment slated to be little changed through 2019 and only rise 0.1 percentage point in each of the two ensuing years -- similar to the medium-run assumptions made in December.
Mulvaney said Tuesday that Trump administration officials believe that the U-6 or underemployment rate can shrink substantially as millions of people with part-time jobs get full-time work, helping boost the economy. That rate would equal the headline unemployment rate "in a properly functioning economy," Mulvaney said at a press briefing; that hasn't happened in data going back to 1994.
The growth estimates are a clear departure from six months ago and defy most current economic thinking by assuming expansion operates almost independently from the other two factors.
GDP, adjusted for prices, is expected to accelerate to 3 percent within three years, versus the Obama White House's estimate that it would ease to a 2.2 percent pace by 2019. In each release, the growth rate is little changed from 2020 through 2027.
The projections were published alongside scores of the broader budget originally proposed by the Trump administration earlier this year, which counts on a dramatic reduction in the federal budget deficit over the same period.
The Obama administration's and the Congressional Budget Office's projections for economic growth assume "a pessimism about America, about the economy, about its people, about its culture that we're simply refusing to accept," Mulvaney said Monday.
The budget was assailed by Democrats. Lawrence Summers, who was Treasury secretary during the Clinton administration and National Economic Council director under President Barack Obama, said in a blog post Tuesday that the proposal's economic assumptions are "ludicrously optimistic."
— With assistance by Catarina Saraiva, and Sho Chandra
Before it's here, it's on the Bloomberg Terminal.
LEARN MORE