EU Lists Criteria for Hosting Bank, Drug Agencies After Brexit
By
Decisions likely by October as countries vie for regulators

Winner must be able to store 34,000 boxes for medicines agency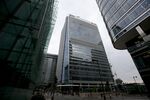 The European Union circulated criteria for cities vying to house the bloc's banking and drugs regulators after Brexit forces them from London, identifying October as the deadline for a decision.
The EU's remaining 27 members have until July 31 to bid for the European Medicines Agency and European Banking Authority, which police their respective industries and have a combined headcount of 1,000 staff. More than 20 nations say they will apply for the drugs regulator while cities such as Paris and Frankfurt are eyeing the bank monitor.
The competition will be fierce and the ultimate choices likely based more on politics than which country can offer the best office space or skills. Playing host to an agency boosts a local economy by drawing companies, expertise and visitors to it.
In a document obtained by Bloomberg News and authored by European Commission President Jean-Claude Juncker and EU President Donald Tusk, applicants are told each agency must be "set up on site and take up its functions" the moment the U.K. leaves the EU in March 2019 to ensure "business continuity" and avoid staff resignations.
'Geographical Spread'
No country can host both agencies and repeated rounds of voting will result in a final of two countries, the winner of which will need a majority of votes from fellow EU members.
The criteria also acknowledged the "desirability of geographical spread of the agencies." Bulgaria, Romania, Croatia, Cyprus and Slovakia currently host none of the EU's bodies. While EU members agreed in 2003 to correct that, the document said that pact referred to new agencies before noting "the spirit" of it should be accounted for.
Among the minutiae the EU is looking for in making its decision are guarantees that the applicants can provide hotel space for visitors which average 30,000 people a year for the medicines agency and 9,000 people for the banking regulator. The winner must also be able to offer education facilities for the children of the EMA's staff and house its off-site archive of 34,000 boxes.
Politics will ultimately determine who gets the boxes. In 2001, then-Italian Prime Minister Silvio Berlusconi complained "the Finns don't even know what prosciutto is" as Parma and Helsinki fought for the EU's food standards agency.
"It will get a little bit more down and dirty when the political process kicks in," Lars Rebien Sorensen, the former head of Denmark's largest company and now the envoy for the nation's campaign to woo the medicines agency, said in a recent interview.
The Financial Times reported the criteria earlier on Tuesday.
Before it's here, it's on the Bloomberg Terminal.
LEARN MORE