Cooperman Gets SEC Waiver to Raise Money for Hedge Funds
By
Omega's ability to raise capital was put at risk in settlement

Billionaire resolved agency's insider-trading case last week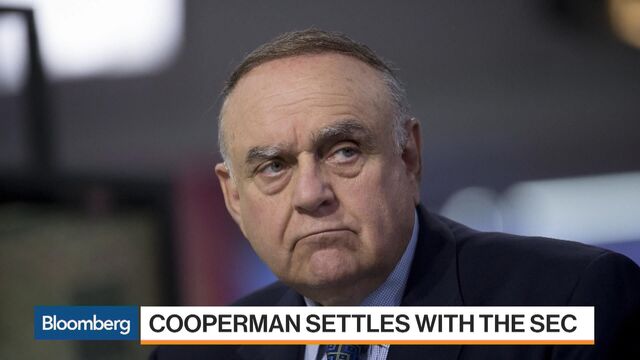 Billionaire Leon Cooperman's hedge funds received permission from U.S. regulators to keep raising money from outside investors, a privilege that was put at risk when he settled insider-trading allegations last week.
The U.S. Securities and Exchange Commission has granted waivers that exempt the investment funds from punishments that automatically kick in when individuals settle enforcement actions. Absent the waivers, it would have been extremely difficult for Cooperman to raise capital for funds he manages at Omega Advisors Inc.
Cooperman, who has a net worth of $2.3 billion, agreed to pay $4.9 million on May 18 to resolve allegations that he used his status as one of the largest investors in an energy company to obtain confidential information from an executive who wasn't named.
After the SEC sued Cooperman last year, the 74-year-old initially said he wouldn't pay any penalty because he did nothing wrong. He agreed to the accord after the regulator dropped its demand that he face an industry suspension. The settlement does require Cooperman to let an independent compliance consultant monitor his business with access to trading records and electronic communications until 2022.
Cooperman, who didn't admit or deny the SEC's claims, said he looked forward to putting the investigation behind him with no restrictions on his "ability to invest and manage client assets," according to a statement issued May 18.
The SEC had traditionally dropped automatic penalties that were triggered as part of enforcement settlements. But in recent years, the issue has become more of a flashpoint with some agency officials arguing that it wasn't appropriate to grant waivers to companies that seem to get in trouble again and again.
Before it's here, it's on the Bloomberg Terminal.
LEARN MORE