Commodities ETFs Are Battling It Out in the Quietest Fee War Ever
By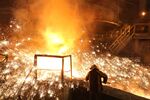 There's a fee war playing out in commodities ETFs, pitting the world's biggest money manager against a plucky upstart and the firm that invented the gold-backed fund.
But are investors paying attention?
Two months after ETF Securities rolled out a pair of broad-based commodities funds at expense ratios of 29 basis points, tickers BCI and BCD, they've attracted less than $4 million in assets apiece, according to data compiled by Bloomberg. That's despite undercutting the previous fee leader BlackRock Inc. by 19 basis points.
Now, a startup called GraniteShares is offering a broad-based commodities fund, ticker COMB, costing 25 basis points a year. The firm, which is backed by Bain Capital LP and led by a former ETF Securities executive, faces a tough audience -- investors who have pulled $619 million from such funds through May 22 amid lackluster performance.
"You can have a fee war in an asset class like this, but it just won't matter," said Eric Balchunas, a Bloomberg Intelligence analyst. "If the tide turns and stocks crater and inflation rises and everybody loves commodities, it might just matter."
 

Race to the Bottom
The Bloomberg Commodity Index, which tracks 20 real assets including gold and agricultural commodities, has dropped 2.6 percent this year, pressured by oil prices, which have been falling despite efforts by producers to prop them up. Crop prices are slipping as a political crisis unfolds in Brazil, the world's No. 1 exporter of sugar and coffee.
Fee wars are common among providers of equity and fixed-income ETFs, with BlackRock slashing fees on 15 iShares ETFs last October in an effort to ward off rivals Vanguard Group Inc. and Charles Schwab Corp. Vanguard countered by cutting expense ratios on its stock and bond funds this year.
Until now that war has largely spared funds tracking commodities. According to Balchunas, the explanation is that Vanguard hasn't entered the space yet. "There's no reason to lower prices if Wal-Mart isn't in your town," he said.
Smaller firms are stepping in. ETF Securities rolled out its two broad-based commodities funds on March 27, charging less than BlackRock's iShares Commodities Select Strategy fund. GraniteShares listed its even cheaper ETF on the New York Stock Exchange on May 22, according to William Rhind, chief executive officer.
K-1 Forms
One reason the funds can charge lower fees is because they do away with the K-1 tax form older funds have to distribute thanks to the way they're organized, said Rhind.
Nevertheless there are barriers besides lackluster performance to getting investors interested. ETFs that hold futures contracts incur "roll costs" to maintain their exposure, which average around 6 percent a year in the case of the PowerShares DB Commodity Index Tracking Fund, according to Bloomberg Intelligence.
Investors could probably learn to live with such costs if performance picks up. Real assets typically do best in inflationary conditions, beating stocks historically, said Mike McGlone, a Bloomberg Intelligence analyst for commodities.
That's what these firms are waiting for. Once investors are ready to put money back into commodities, they'll go for the cheapest funds and ones that don't require a K-1 form, said Matthew Collins, head of U.S. product for ETF Securities.
"For most clients, it's sort of a no-brainer to switch to something that's lower cost," he said.
Quotes from this Article
Before it's here, it's on the Bloomberg Terminal.
LEARN MORE