Brazil Adjusts Economic Reform Agenda to Post-Crisis Reality
By , , and
Temer unlikely to advance labor, pension reforms: analysts

Market volatility has surged as investors react to politics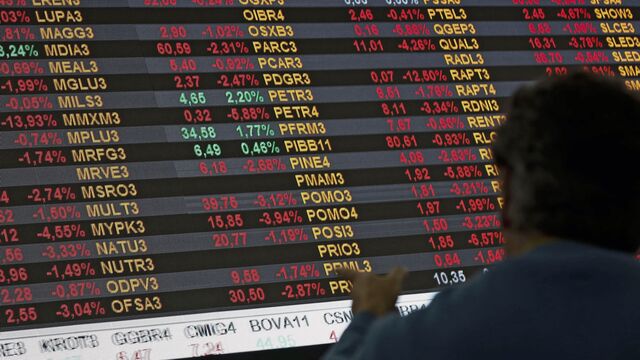 Engulfed by a crippling corruption scandal, Brazilian President Michel Temer is regrouping his diminished political base and pushing a more modest legislative agenda in an effort to showcase some normalcy.
Temer's largest coalition partners have agreed to conditionally support him and a series of bills that had been stalled since last week, including a proposal to deregulate the labor market. Meanwhile, the Supreme Court delayed a ruling on Monday whether to continue a corruption probe against the president, a decision he may well have lost.
Temer was blindsided last week by allegations of passive corruption and obstruction of justice at a crucial juncture for his economic reform agenda. While Temer may have bought himself some time, he continues to face an uphill battle to ensure his political survival, much less rebuilding a coalition that could approve controversial measures such as a bill curbing pension outlays, said Brasilia-based political analyst Andre Cesar.
"If he survives, it'll be with much less support," said Cesar. His administration may be able to pass "some micro-economic reforms but forget the big ones like labor and pension -- there's no climate for that."
Read more: QuickTake Q&A on How Brazil's New Political Crisis Might Play Out
In order to help rebuild support among legislators and their constituents, Temer will propose a series of pork barrel projects, such as wage increases for public tax collectors, debt refinancing for small and mid-size companies, as well as land ordinance regulations sought by farmers, according to a person with direct access to the president who asked not to be named.
Lower house chief Rodrigo Maia even spoke of a June 5-12 time frame for starting discussions and voting on the pension reform bill, which Temer's administration and investors consider essential to fix Brazil's depleted public accounts. The government was nearing the 308 votes needed to pass the measure in the lower house before the allegations of wrongdoing surfaced.
At the same time Temer's lawyers and technical experts gave reporters a lengthy lecture on why the recordings used as evidence of alleged corruption had been doctored and could not be admitted. The news conference was broadcast live by many Brazilian media outlets.
Brazil's markets have taken a hit since the accusations against Temer were revealed while the threat to his agenda led S&P Global Ratings on Monday to put Brazil's BB rating on Creditwatch with negative implications, which means it could be downgraded in the next three months.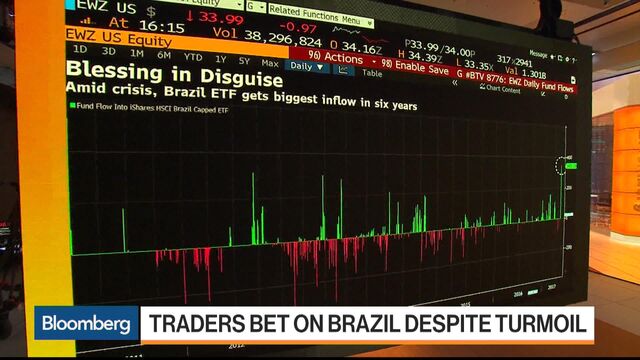 "This is a very complex crisis that has no precedent," said Senator Ricardo Ferraco, who is also the rapporteur for the government's labor reform bill in an upper house committee. "But, we can't confuse that with our duty. It's best not to mix the government's crisis with the economic crisis."
In a reminder of how delicate the government's situation is, one of Temer's advisors was arrested on Tuesday, albeit on charges related to his role in a previous administration of the nation's capital. With numerous impeachment requests already filed against the president, many lawmakers were skeptical that legislative advances can be made.
Read more: Why Brazil's Politics Got Sent to 'Carwash' Again: QuickTake Q&A
Divisions currently run too deep to consider voting measures that had already been challenging before the latest crisis broke, said lower house legislator Julio Delgado. "Without someone who can unify the country, there's no way you can vote on the pension and labor reforms," he said.
Deputy Luis Covatti of the Progressive Party agreed. "It's difficult to separate the political crisis from the economic agenda," he said in a phone interview. "It's all on hold and nobody can see tomorrow."
While the nation was focused on Supreme Court decision, the real threat to the Temer administration may actually come from the country's electoral court. Temer will most likely be removed from office in early June, when the court decides whether or not to invalidate the results of the 2014 election ticket shared with former President Dilma Rousseff, according to David Fleischer, professor emeritus at the University of Brasilia.
"Temer is wiggling around to try and maintain some support," Fleischer said in a phone interview. "There are going to be considerable articulations in Congress at the end of this week and also next week in anticipation that they will have to quickly select a new president."
Before it's here, it's on the Bloomberg Terminal.
LEARN MORE