John Malone's Formula for Successful Shareholder Meetings: 15 Minutes or Less
By
It's a quadruple-header at home of baseball's Atlanta Braves

Rubber-stamping owners rarely care to make their voices heard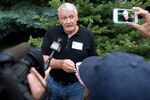 It's the corporate-governance equivalent of speed dating.
Within just one hour on Wednesday, the gavel will fall at four shareholder meetings in the same room at the same place: the headquarters of Major League Baseball's Atlanta Braves.
It's possible because a single person controls all four companies, as well as the team: billionaire media-and-sports mogul John Malone, whose empire includes Sirius XM satellite radio, QVC shopping, Formula One racing, the TripAdvisor website and stakes in cable operator Charter Communications Inc. and the company that owns the Starz network.
These 15-minute shareholder meetings show how corporate democracy in America can be pro-forma. It's especially true at companies such as Malone's where multiple classes of stock give a single owner the bulk of the votes. Liberty Media Corp. and three other similarly named Malone-controlled businesses are holding gatherings Wednesday.
"Well, at least they're having shareholder meetings," said Charles Elson, director of the John L. Weinberg Center for Corporate Governance at the University of Delaware. "This is what happens with dual-class stock: Viewpoints of the other holders are minimized, because you don't need them."
Confronting Management?
Whit Clay, a spokesman for the assorted Liberty companies, said they have "an active and robust investor relations program." Throughout the year, he said, executives participate in conferences and meetings, including a fall session where shareholders can query the entire management team.
 
In theory, corporate annual meetings play that role. Investors, no matter their size or influence, have a chance to confront company leaders and vote on essential matters, including executive pay and board membership.
Occasionally, that's the case. On April 25, shareholders interrupted Wells Fargo & Co.'s meeting because of anger about its bogus-account scandal.
The Liberty meetings, like most, will be less dramatic, as well as more sparsely attended. The schedules include votes to ratify auditors and one-third of current directors.
The morning's master of ceremonies will be Greg Maffei, the chief executive officer or director of at least nine of the billionaire's companies, including Liberty TripAdvisor Holdings Inc., Liberty Broadband Corp. and Liberty Interactive Corp.
This year, Maffei's job is a bit easier. On May 25, 2016, two of the four companies held meetings at 8 a.m. and 8:15 a.m. at their joint headquarters in Englewood, Colorado. Then, there was a kind of intermission. He returned at the same time on a different day -- Aug. 23 -- for the other confabs.
In June 2015, three of the four corporations lined up their meetings within a 20-minute period at the Colorado office. Directors called a fourth meeting three months later.
Virtual Meetings
Some corporations have dispensed with analog annual meetings entirely. Chipmaker Intel Corp. held its first online-only gathering in 2016 after seven years of letting investors either attend in person or follow online. On May 11, Ford Motor Co. held its first virtual-only meeting to "increase shareholder accessibility, while improving meeting efficiency and reducing costs."
Since the various Liberty businesses either provide internet services -- or rely on them -- they might seem natural candidates for virtual meetings. On Wednesday, though, 76-year-old Malone's four companies will be holding their annual meetings the old-fashioned way: in person and fast.
(
Adds specifics on ownership of Starz and Charter Communications in third paragraph.
)
Before it's here, it's on the Bloomberg Terminal.
LEARN MORE