business
Your Evening Briefing
Bloomberg News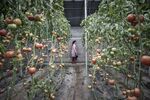 The evening briefing will soon be available in your inbox every day. To be among the first to get it, sign up here.

China's 1.4 billion people are building up an appetite that is changing the way the world grows and sells food. A diet that is becoming more like the average American's means companies are scouring the planet for everything from bacon to bananas. Ballooning populations in Asia, Africa and South America during the next generation mean they, too, will need more to eat. In the second half of this century, the world will have to grow food for 9 billion people. China's answer? An agricultural revolution that may be every bit as influential as the industrial transformation that rewrote global trade. —Brent O'Brien

Cathay Pacific will eliminate 600 jobs as part of its biggest revamp in two decades following its first loss in eight years. Despite booming demand for air travel in Asia, Cathay, Asia's biggest international carrier, and Singapore Airlines are among premium operators in the region reeling from intense competition with low-cost carriers, Chinese mainland rivals and Middle Eastern airlines. 

The ghost of the 1997 crisis is haunting Hong Kong. In 1997, the Asian financial crisis touched off a six-year property bust in the city that shaved more than two-thirds off prices and saddled Hong Kong with a stagnant economy and deflation.  Now, prices are at all-time highs, mortgage borrowing is booming and developers are bidding up the cost of land to record highs. In short, the kind of fervor that preceded the last bust is back.

Embattled Ford Motor Co. CEO Mark Fields is being replaced, according to a person familiar with the move. He'll be replaced by James P. Hackett, the head of Ford Smart Mobility. The departure comes after a plunge in shares of more than 30 percent since he took the helm of the automaker on July 1, 2014.

Japan's big casino plans are provoking fury in rural towns.  With Tokyo, Osaka and Yokohama being pegged as likely candidates for casino resorts under the Japanese government's new bidding framework, smaller cities are voicing their displeasure. They say it undermines Prime Minister Shinzo Abe's goal of reviving rural areas. Here's how Japan's bet on Asia's casino boom may play out. 

Trump plans to propose $1.7 trillion in cuts to anti-poverty programs and Medicaid, the health program for the poor. The White House will issue a formal budget request Tuesday, according to a Republican congressional aide and a White House document obtained by Bloomberg News. It's part of an effort to balance the budget with a decade. 

Komodo dragon blood may hold the secret to killing superbugs. The blood of the endangered dragon is known for its toxicity, but the world's largest lizard also appears impervious to disease and infection. A team of researchers who spent the past four years analyzing Komodo blood discovered it's loaded with compounds that could be used as antibiotics. They're hoping to turn those compounds into drugs that may save millions of lives and may be worth billions of dollars.

Before it's here, it's on the Bloomberg Terminal.
LEARN MORE