Tunisian Forces Use Tear Gas as Job Protests Roils Nation's South
By
One dead in demonstrations outside Tataouine energy facility

Region's tensions threaten Tunisia's relative post-2011 peace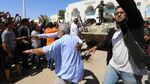 Tunisian security forces used tear gas against hundreds of protesters trying to storm an energy facility in the country's south, as anger over unemployment boiled over into the most serious disturbances for months.
One person died after suffering injuries to the head, chest and legs, an unidentified medical official in the Tataouine hospital told the Mosaique FM radio station. Elsewhere in the city, demonstrators set fire to the local offices of the national security forces.
Video footage circulating on social media showed protesters jamming the streets of central Tataouine, against a backdrop of thick plumes of black smoke. "Tataouine won't back down," they shouted.
Demonstrations forced the facility to close over the weekend. The army re-opened it Monday, triggering the unrest, according to reports on Mosaique and other radio stations. Protesters are demanding the creation of 1,500 jobs at oil companies -- and thousands more in other areas -- as well as 100 million Tunisian dinars ($40.5 million) for the region's development fund. The defense ministry had warned it would use force to protect and retake oil and natural gas facilities.
The sector became a focal point for anger after the 2011 uprising that kicked off the Arab Spring turmoil, especially in the impoverished and underdeveloped south where most fields are located. The southern region's problems are threatening Tunisia -- and its fragile multi-party government -- with the kind of chronic violence that, unlike most neighbors, it has largely avoided.
The little crude oil that Tunisia produces is mainly exported by its foreign partners. It imports most of its refined fuels.
Before it's here, it's on the Bloomberg Terminal.
LEARN MORE