Trump Makes Israel Peace Bid by Trying to Leverage Iran Threat
By , , and
Netanyahu says he shares Trump's hope for long-shot deal

Tillerson tamps down expectations for 'ultimate deal'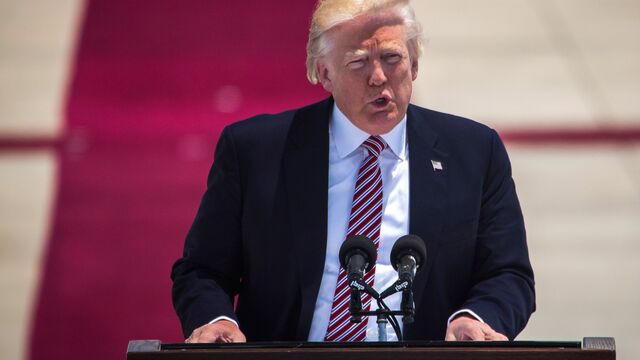 President Donald Trump and Israeli Prime Minister Benjamin Netanyahu said they saw an unprecedented opportunity to achieve an elusive Mideast peace agreement as formerly hostile Arab nations join with the Jewish state to confront their common rival, Iran.
"I've heard it's one of the toughest deals of all, but I have a feeling that we're going to get there eventually, I hope," Trump said after a meeting with his Israeli counterpart in Jerusalem on Monday.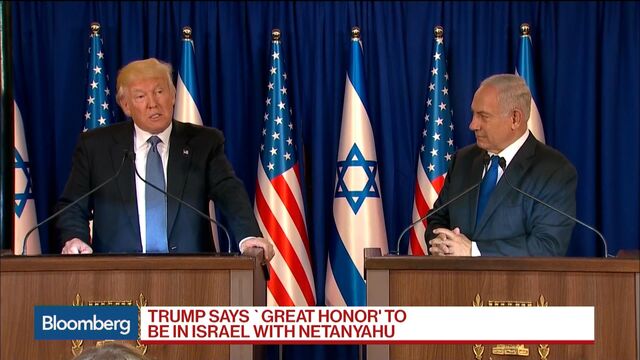 Netanyahu said that "common dangers are turning former enemies into partners" and that "for the first time in my lifetime I see a real hope for change."
Trump visited Israel after a similar pitch to Arab leaders in Saudi Arabia over the weekend, where he urged them to confront extremism in the Muslim faith. On Tuesday, Trump will cross for a few hours into Palestinian-held territory in Bethlehem, where he will meet Palestinian Authority President Mahmoud Abbas.
His reception in Jerusalem was considerably less gilded than in Riyadh, where he and his delegation were treated like celebrities as they signed multi-billion-dollar defense and infrastructure agreements. Netanyahu had to order his cabinet ministers to attend a brief welcome ceremony at Ben Gurion International Airport and tried to shove one parliamentarian out of the way as he asked Trump for a selfie. From there, Trump was whisked by helicopter to Jerusalem to start a 28-hour visit heavy on symbolism and littered with political minefields.
'Hopeful Signs'
"During my travels I've seen so many hopeful signs that lead me to believe we can achieve a more peaceful future for this region," Trump said. However, his secretary of State, Rex Tillerson, cautioned that the U.S. is trying to "manage our ambitions," and the president did not outline anything approaching a peace plan for the Israelis and Palestinians.
The two sides remain far apart. Arabs have proposed normal ties in return for establishment of a Palestinian state along the June 4, 1967 borders just before the Six-Day War with East Jerusalem as the capital. By contrast, some of Netanyahu's coalition partners oppose the idea of any Palestinian state and want to annex the West Bank.
Iran's support of extremist groups in the region is a threat both to Israel and Arab states along the Persian Gulf, Trump said in a meeting with Israeli President Reuven Rivlin earlier in the day. There's a "growing realization among your Arab neighbors that they have common cause with you in the threat posed by Iran," Trump told Rivlin.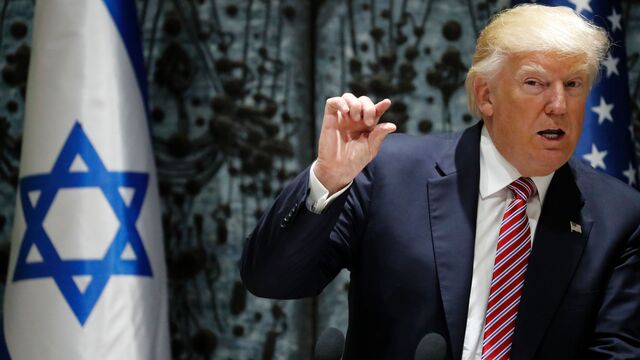 "The United States and Israel can declare with one voice that Iran must never be allowed to develop nuclear weapons," Trump said. "Never, ever. And must cease its deadly funding, training and equipping of terrorists and militias."
For more politics coverage, subscribe to the Bloomberg Politics Balance of Power newsletter
Asked about a three-way meeting between Trump and the Israeli and Palestinian leaders, Tillerson said, "That's for a future discussion." Trump has called peace between the two sides the "ultimate deal."
Israel's security cabinet passed a package of economic measures late Sunday aimed at bolstering the Palestinian economy as a confidence-building gesture ahead of the Trump visit. They include easing travel between the West Bank and Jordan, developing two new industrial zones and increasing the number of building permits issued to Palestinians in parts of the West Bank where Jewish settlements are located near Arab communities.
'Economic Peace'
"The Trump administration is focused on materially enhancing the quality of life and the economy for the Palestinians," said Michael Oren, a parliament member and former Israeli ambassador to the U.S. who now serves as an adviser in the prime minister's office. "They don't see economic peace as a substitute for real peace, but they see it as setting an agenda that would make conditions conducive toward peace."
Read more about possible U.S. embassy move: QuickTake
The last round of direct negotiations between Israelis and Palestinians collapsed in 2014. After a campaign filled with stridently pro-Israel statements and a pledge to move the U.S. embassy from Tel Aviv to Jerusalem, Trump has moderated his Israel support since taking office. He's urged Netanyahu to limit settlement construction and has also decided not to immediately move the U.S. embassy, a senior White House official said this month.

In the West Bank, hundreds of demonstrators supporting a hunger strike by Palestinian prisoners in Israel scuffled with Israeli forces. Some held signs showing Trump's face and a "Do Not Enter" symbol. Later, a Palestinian who tried to stab an Israeli policeman at a checkpoint near Bethlehem was shot dead.
While public statements on the peace process and the status of Jerusalem may dominate headlines, behind the scenes Netanyahu will ask the U.S. president to impose new sanctions on Iran for threatening the Jewish state with ballistic missiles and sponsoring terrorism, Oren said.
"What happens with Iran has brought many toward Israel," Trump said in brief remarks at Rivlin's residence in Jerusalem. "Such a different feeling toward Israel from countries that weren't feeling so well about Israel not so long ago. Brought a lot of folks together."
Western Wall
From Rivlin's residence, Trump toured Christian and Jewish holy sites in the contested Old City, met Netanyahu at the King David Hotel. The two had dinner with their wives at the prime minister's residence in Jerusalem.
Trump became the first sitting U.S. president to visit the Western Wall, the remnant of Herod the Great's Second Jewish Temple that is the holiest place Jews are allowed to pray. Israeli security forces, including the police, army and Air Force, cleared the white-cobblestoned plaza in front of the wall hours before Trump arrived as helicopters buzzed above the Old City.
Shops in the Jewish quarter posted signs in their glass storefronts with a picture of the Wall, an Israeli flag and the words: "President Trump, Welcome to Jerusalem, Israel's Eternal Capital. " A large white tent was erected on the plaza facing the Western Wall to receive Trump's limousine and obscure his path to the shrine where it's traditional for visitors to slip a note into large cracks in the stone wall with prayers and wishes for God.
Both Trump and his wife, Melania, inserted notes into the wall.
Trump said with Netanyahu that he was "deeply moved" by his visit to the site. "It will leave an impression on me forever."
Palestinian Meeting
In Bethlehem, Abbas is scheduled to greet Trump Tuesday with a bagpipe-playing color guard and assure him that his people want peace. Palestinian groups across the political spectrum, including members of Abbas's Fatah party, have called for a "Day of Rage" in support of the hunger strikers, but Palestinian security officers will be out in force to make sure the president isn't harmed, Abbas's office said.
More than 10,000 police officers, border police, special patrol units and undercover units have been deployed across Israel to secure the visit, closing major highways and disrupting daily life. Mauricio Guerra, a Mexican tourist, was shocked to find he and his family wouldn't be able to visit the Church of the Holy Sepulchre, believed to be the site of Jesus's crucifixion and burial, because of Trump.
"This guy makes trouble for Mexico with the wall and I can't even escape him in the Holy Land," said Guerra, 50, of Monterrey.
— With assistance by Jonathan Ferziger, and Fadwa Hodali
Before it's here, it's on the Bloomberg Terminal.
LEARN MORE