JBS Plunges Again After Temer Accuses Owners of Illicit Profits
By and
Shares, bonds extend declines Tuesday amid owners' plea deal

U.S. IPO seen all-but-dead, leniency deal still to be defined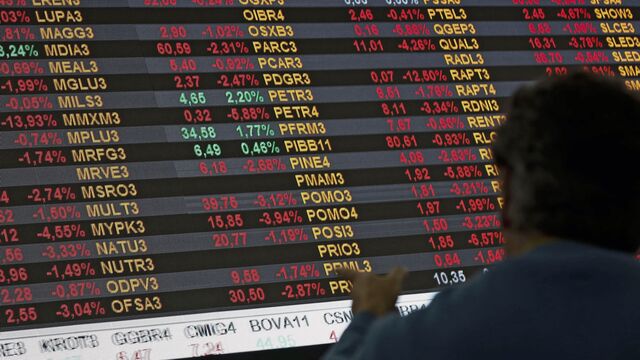 Concern over insider trading accusations, an all-but-dead initial public offering and a looming deal with prosecutors helped fuel another rout that wiped about 7.5 billion reais ($2.3 billion) from the market value of JBS SA, the Brazilian company at the center of the country's latest political scandal.
Shares of the world's largest meatpacker plunged 8 percent on Tuesday in Sao Paulo, temporarily halting trading, a day after posting a record 31 percent loss. That follows a 21 percent slide last week when investors dumped Brazilian equities and the real after the first reports emerged of JBS's owners admitting to paying bribes to President Michel Temer and other politicians. The company's bonds also extended losses Tuesday after the company's credit rating was downgraded by Moody's Investors Service and Fitch Ratings.
JBS's $750 million in notes due in 2024 lost 7.9 percent to 85.46 cents on the dollar, the lowest since February 2016, as of 9:24 a.m. in New York. On Monday night, Fitch cut JBS's rating to BB from BB+ as potential fines or other actions against the company are "likely to hurt JBS's diversity of funding sources and expected to result in the cancellation or delay of the initial public offer of its international unit." Fitch placed JBS on rating watch negative.
The collapse in the stock and speculation JBS will face class-action lawsuits in the U.S. as a result of the the revelations have killed plans for the IPO of its JBS Foods unit in New York, according to Luis Gustavo Pereira, an analyst at brokerage Guide Investimentos. Also weighing on the shares is the uncertainty surrounding parent company J&F Investimentos SA, which is still in negotiations with prosecutors for a leniency deal.
"It's hard to find a floor for JBS shares at the moment," Pereira said by phone.

Rosen Law Firm filed a suit on behalf of U.S. investors who bought JBS's ADRs is over false or misleading statements as JBS failed to disclose bribes to politicians and "suspicious trades that exhibit signs of possible insider trading prior to the revelation of a plea deal" by its top executives, according to statement late Monday.
Videoed court testimony released May 19 showed the Joesley Batista and brother Wesley, whose family controls Sao Paulo-based JBS, describing a wide-ranging scheme of illicit payments over several years. The admissions come three years after the country was first rocked by what became known as the Carwash corruption scandal.
Temer, who has denied any wrongdoing, is fending off calls to resign. He stepped up his defense in a nationally televised speech at the weekend, saying JBS made "millions and millions of dollars" in less than 24 hours with currency trades because it was aware that the brothers' testimony would lead the real to depreciate. Meanwhile, the conditions given to Joesley, JBS's chairman, as part of the plea agreement reached with prosecutors will be questioned in the Supreme Court, newspaper O Estado de S. Paulo reported.
Five Probes
Brazil's securities regulator CVM has started five separate inquiries into trades related to JBS and Banco Original, which is also owned by J&F. CVM informed prosecutors of the possible use of inside information in trading of dollar futures and shares.
JBS declined to comment on stock transactions. It said May 19 that its recent currency transactions were aimed at reducing risk and are in accordance with company policy.
Prosecutors and the company haven't reached an agreement on the amount that J&F should pay in fines as part of a leniency deal. Negotiations were resumed Monday, according to a note on the website of Brazil's prosecutor, which is seeking a payment of 11.2 billion reais over 10 years. JBS has proposed paying 1 billion reais to 1.4 billion reais. The company said it has also started leniency talks with the U.S. Department of Justice.
Moody's downgraded JBS and its wholly owned subsidiary JBS USA to Ba3 from Ba2 on Monday, citing "increased risks related to potential future litigation cases, governance of the company, and liquidity, on which there is currently limited visibility."
The company's $750 million in bonds due in 2024 lost 6.8 percent to 92.775 cents on the dollar. The shares closed down at 5.98 reais, the lowest level since 2013 and the biggest one-day drop since they began trading in 2007. Trading volume that was seven times the three-month daily average.
Quotes from this Article
Before it's here, it's on the Bloomberg Terminal.
LEARN MORE