Indonesia Bonds Rise as S&P Upgrade Boosts Prospects for Inflows
By and
Foreigners' bond buying is up 42% in 2017 from a year earlier

Rating change should support debt in near term: Morgan Stanley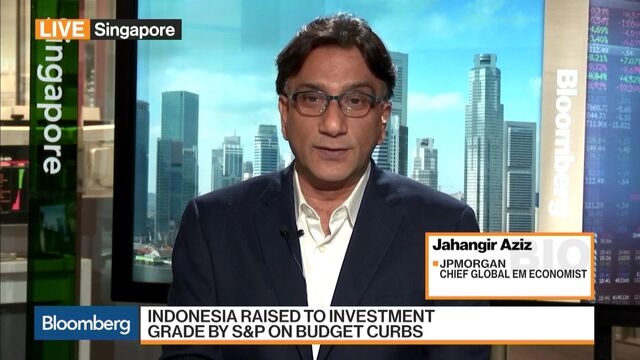 Indonesia's 10-year bond climbs as S&P Global Ratings' upgrade on the nation fans speculation that inflows of global funds will increase.
Foreign inflows to Indonesian bonds totaled $6.32 billion this year through Friday, 42 percent more than from January to the end of May 2016. Goldman Sachs Group Inc. forecast in March that an upgrade could help attract as much as $5 billion.
With S&P's upgrade to BBB- from BB+, Indonesia now has investment-grade ratings from all three major rating companies.

S&P's upgrade was anticipated but came earlier than expected, Morgan Stanley said in a note after the announcement Friday. The move should provide near-term support to the rupiah and Indonesian government bonds, it said. Morgan Stanley prefers lower-duration bonds, given "attractive" roll-down in the front end of the curve as well as expectations of a pick-up in inflation and the central bank increasing the policy rate in the fourth quarter.
See also: Mood Brightening on Indonesian Stocks After Investment Grade Nod
Indonesia's 10-year yield slid six basis points to 6.987 percent Monday, which would be the lowest close since Sept. 28. The two-year yield, meanwhile, fell four basis points to 6.632 percent. The rupiah was up 0.2 percent at 13,307 per U.S. dollar.
Japanese bond yields rose one to 1 1/2 basis points across the curve ahead of an extra auction Tuesday for debt with remaining maturities of 5 to 15 1/2 years.
Asia Rates at a Glance
Yield
(%)
Yield
Z-Score
Change
(bps)
Change
Z-Score
Japan
0.045
-0.21
+1.0
1.35
Australia
2.490
-1.32
+1.5
0.56
New Zealand
2.856
-1.83
+2.1
0.78
Singapore
2.101
-1.23
-0.4
-0.02
South Korea
2.276
1.21
+2.7
0.83
China
3.660
2.02
+1.0
0.18
Indonesia
6.987
-1.14
-6.2
-1.34
Malaysia
3.876
-2.21
-1.1
-0.27
Thailand
2.732
0.45
+1.6
0.70
India
6.687
-1.82
-2.3
-0.43
NOTE: Table shows 10-year government bond yields and changes on the day. Z-scores measure deviation from average in past three months.
— With assistance by Daisuke Sakai
Before it's here, it's on the Bloomberg Terminal.
LEARN MORE