House GOP Must Bridge Gaps on Budget Before Moving to Taxes
By
Conservatives' demand for a balanced budget holds up process

Republican House moderates want military spending increases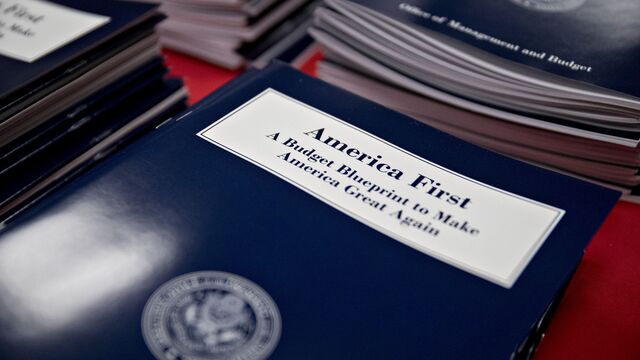 House Republicans say they aren't close to agreeing on a budget blueprint they have to approve before they can move ahead with one of their top priorities: a tax overhaul.
The biggest point of contention is over conservatives' demands that the spending plan chart a path toward a balanced budget within 10 years. Republicans need to approve a budget resolution to activate a mechanism that will allow them to enact tax cuts without relying on Democratic votes in the Senate.
That will mean bridging persistent gaps between House moderates -- who want military spending increases without President Donald Trump's $54 billion in proposed cuts to domestic agencies next year -- and conservatives, who want both to make those cuts and to cut deeper by slashing safety-net spending. 
Trump plans to release his fiscal 2018 budget Tuesday, which is expected to provide his own path to a balanced budget. He is planning to propose $1.7 trillion in cuts to mandatory spending programs over the next decade, including Medicaid, according to a GOP aide. Those cuts target many programs aimed at helping lower-income Americans, including food stamps, known as the Supplemental Nutrition Assistance Program, which would be reduced by a quarter, or $193 billion, over 10 years.
Republicans' inability -- so far, at least -- to find common ground in their own party shows why they're having trouble moving ahead with their agenda even when they control both chambers of Congress and the White House.
The split has members fretting that the budget could face the same delays that have plagued efforts to repeal Obamacare, which the majority also tried to pass without any Democrats.
For more politics coverage, subscribe to the Bloomberg Politics Balance of Power newsletter
'Like Health Care'
"It's kind of like health care," said Representative Mike Simpson, a moderate Idaho Republican. "That's a challenge."
Last year, the House was unable to put a budget resolution on the floor for votes after conservatives demanded $30 billion in immediate spending cuts that moderates rejected. When they acted on a budget resolution earlier this year -- which they are trying to use to get rid of Obamacare -- they agreed to ignore their goal of balancing the budget.
That won't fly this time around.
"The only way that they can convince members to vote for one of these budgets is to say, 'Hey, we've got to do this because it's how we get reconciliation for tax reform,'" Simpson said.
Without a budget resolution, Republicans won't be able to fast-track a tax overhaul through the Senate by insulating it from any Democratic filibuster.
New York Republican Tom Reed said that lawmakers know "getting a budget done is incredibly important for tax reform" and so will be motivated to bury differences this time.
"Passing anything in the House is difficult these days but we showed in health care that we could get the job done," he said. The House barely passed its Obamacare repeal bill, H.R. 1628, on May 4 by a vote of 217 to 213 after months of trying.
House Speaker Paul Ryan of Wisconsin and his team in the coming days will ramp up efforts to get his conference on the same budget page, a House leadership aide said.
The aide said lawmakers don't yet fully realize the range of decisions needed to be made to move forward on the budget, taxes and the spending bills for next year.
Time to 'Coalesce'
"Next week we will start to coalesce around a strategy. That doesn't mean that it will all be ironed out," said Freedom Caucus Chairman Mark Meadows of North Carolina. Meadows said that his group plans to work with members of the moderate Tuesday Group, a strategy that helped the Obamacare repeal bill squeak through the House.
It remains to be seen how many of the Freedom Caucus's three dozen members Meadows can bring along. Representative Justin Amash of Michigan, who is regularly at odds with his party, said that he needs to see cuts to mandatory spending, a category that includes Medicaid and food stamps, to vote for a budget.
"We've talked for years about how we would change things if we had total control of government. Well now we have the opportunity," he said. "If they are not really going to try that will be disappointing."
Charlie Dent of Pennsylvania, a leader of the moderate Tuesday Group, said that he has two main concerns: making sure the budget cap for fiscal 2018, which stands at $1.065 trillion, provides enough funding for agencies and that instructions for a tax bill don't call for spending cuts. 
The House spending panel on which Dent sits cannot begin writing its bills without knowing the level of the budget cap. Republican members of the panel argue that since Senate Democrats will never agree to Trump's proposed cuts, the cap may need to be raised for defense, or they will need to categorize it as emergency war funding.
"We don't want to create expectations for bills that the Senate can't pass," he said.
Dent's push for robust agency funding was bolstered by a broad group of business leaders who wrote a letter on Monday to Secretary of State Rex Tillerson urging him to back a strong State Department budget ahead of Trump's official budget announcement. It's one example of the broad array of interests defending government programs -- from scientific research to overseas advocacy -- that successfully prevented Trump from getting the $18 billion in mid-year cuts he sought earlier this year.
'Some Hiccups'
Republican Study Committee Chairman Mark Walker of North Carolina, whose 170-member caucus leans conservative, predicted the differences can be overcome if the lessons of Obamacare repeal are learned.
"I don't know that is going to be as difficult as the health-care bill but I do believe that there are going to be some hiccups as far whether we are going to bust the caps or where it is going long term," he said. "I hope we learned something from the American Health Care Act and we do the work up front and earlier."
The House Budget Committee, led by Chairwoman Diane Black of Tennessee, is aiming to vote on a budget resolution after Memorial Day. Whatever Black and her committee come up will then have to pass the House and be reconciled with a Senate budget resolution.
The RSC as soon as this week plans to release its own budget vision to help guide the negotiations. The author of that budget, Representative Tom McClintock of California, said conservatives and moderates will have to compromise.
"It will require enough of my colleagues to realize that they won't find perfection in any piece of legislation," he said.
— With assistance by Steven T. Dennis
Before it's here, it's on the Bloomberg Terminal.
LEARN MORE