Five Things You Need to Know to Start Your Day
Get caught up on what's moving markets in Asia.
By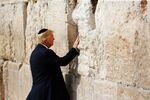 Want to receive this post in your inbox every morning? Sign up here.
Trump uses Iranian threat as leverage, Iraq okays output cuts through March 2018, and manifold political uncertainties buffet the pound. Here are some of the things people in markets are talking about.
Trump in Jerusalem
Visiting Israel, U.S. President Donald Trump described the Jewish state as having common cause with both America and neighboring Arab nations in their opposition to Iran, and reiterated his desire to broker a Mideast peace accord. Trump also told the press—without being prompted—that he "never mentioned" Israel when speaking with Russian officials on May 10, conversations during which he reportedly revealed information about an Islamic State plot.
Iraqi Backing
Iraq is on board to maintain output curbs enacted by OPEC and other major oil producers for another nine months, after previously favoring a six-month extension. West Texas Intermediate front-month futures rose as high as $51.06 per barrel on Monday ahead of the OPEC meeting Thursday as Oman and Mexico also expressed support for production caps through the first quarter of 2018, in accordance with earlier statements from Saudi Arabia and Russia. A caveat on Iraq's cooperation, however: OPEC's second-biggest producer exceeded its output quota by 80,000 barrels per day in the first three quarters of 2017.
Pounded
The British pound was the worst-performing G10 currency Monday as polls showed the Labour Party gaining ground on the heavily favored Tories amid a u-turn on the ruling party's stance on elderly care. Ahead of the June snap election called by Prime Minister Theresa May, the Tories are nevertheless picking up support in locales that used to loathe the Tories. Meanwhile, the European Union looks to play hardball in its approach to Brexit, with member states reportedly unified in their insistence that the U.K. pay a hefty exit bill that some estimates put as high as 100 billion euros.
Stocks Up
U.S. stocks continued to shake off Wednesday's stumble with their third straight session of gains, sending the S&P 500 index up 0.5 percent. Defense, industrial, and energy shares fared particularly well, while the greenback did not: The Dollar Spot index lingered at its lowest levels in seven months. Nikkei 225 and S&P/ASX 200 equity futures are pointing to a higher open Tuesday as of 5:30 a.m. Tokyo time after stocks in the region posted a solid advance to kick off the week.
Coming Up…
Headlining the day's economic events in the Asia Pacific region is the preliminary reading of Japan's Nikkei manufacturing purchasing managers' index for May, which has pointed to an expansion in the sector for the past eight reports. It's due out at 9:30 a.m. Tokyo time. The nation's measure of all industry activity for March is expected to decrease by 0.5 percent month-on-month. Former South Korean president Park Geun-hye is also slated to attend a court hearing at 10 a.m. Tokyo time tied to the corruption scandal that resulted in her impeachment and arrest. April's inflation data for Singapore and Hong Kong are also on the daily calendar.
What we've been reading 
This is what caught our eye over the last 24 hours.
Before it's here, it's on the Bloomberg Terminal.
LEARN MORE