Five Things You Need to Know to Start Your Day
Get caught up on what's moving markets.
By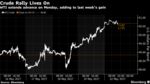 Want to receive this post in your inbox every morning? Sign up here
Trump's success in Saudi, crude's melt higher continues, and Brexit arguments go on and on. Here are some of the things people in markets are talking about today.
Foreign policy
President Donald Trump's first overseas trip since his inauguration got off to a successful start in Saudi Arabia, where he delivered a well-received speech on combating terrorism and witnessed the signing of $110 billion in defense deals. Today the president moves to Israel, where he is likely to try to increase pressure on Iran, the country whose election on Friday saw President Hassan Rouhani trounce his hard-line challenger. Back in Washington, Trump's domestic problems may come back into the fore on the back of his budget proposal, which plans to cut spending on major social programs aimed at lower-income Americans.
Oil rise
A barrel of West Texas Intermediate for June delivery, a contract which expires today, was at $50.69 by 5:20 a.m. Eastern Time. Ministers from the Organization of Petroleum Exporting Countries and its allies will meet in Vienna on Thursday to extend production cuts for nine months from the current end date of June. Saudi Arabia's energy minister said on Saturday that all producers party to the original agreement are on board with the extension.
Brexit, Greece
Euro-area finance ministers gather in Brussels today to try to find a deal that would allow a new set of rescue loans for Greece, with the target — according to a German finance ministry letter seen by Bloomberg — to bring the country's debt-to-GDP ratio to 60 percent by 2060. Also in Brussels today, the ministers of the 27 European Union member states that are not leaving the bloc will meet to review, and possibly revise, the mandate for their appointed Brexit negotiator Michel Barnier. The pound was trading lower at $1.2983 by 5:45 a.m. after British Brexit Secretary David Davis said the U.K. will quit talks with the European Union if the proposed exit bill is too high.
Markets quiet
Overnight, the MSCI Asia Pacific Index advanced 0.8 percent, with Japan's Topix Index adding 0.5 percent as energy and mining shares gained. In Europe the Stoxx 600 Index was unchanged at 5:50 a.m. after posting its biggest weekly lost since November at Friday's close. S&P 500 futures were 0.1 percent lower.
Brazil tremors
Pressure continues to mount on President Michel Temer of Brazil, with a key coalition partner, the PSB party, joining opposition calls for his resignation. Temer has refused to step aside, arguing that a recording of him allegedly approving hush money for a jailed politician involved in last year's impeachment of former President Dilma Rousseff was doctored. There were demonstrations across the country yesterday calling for him to resign.
What we've been reading
This is what's caught our eye over the weekend.
Quotes from this Article
Before it's here, it's on the Bloomberg Terminal.
LEARN MORE