Ethics Chief Denies White House Request to Slow Lobby Review
By
Trump's budget director had asked for stay in waiver inquiry

Decision may escalate tensions between White House, OGE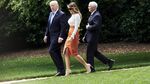 The head of the federal ethics agency on Monday turned down a White House official's request to suspend an inquiry into the number of ethics waivers granted to members of President Donald Trump's administration.
In a letter posted to the Twitter account of the federal Office of Government Ethics, director Walter Shaub said the agency was declining a request from Mick Mulvaney, the director of the White House's Office of Management and Budget.
"The unusual nature of your letter highlights OGE's responsibility to lead the executive branch ethics program with independence, free from political pressure," Shaub wrote to Mulvaney in a letter dated May 22. "Accordingly, OGE declines your request to suspend its ethics inquiry."
"Public confidence in the integrity of government decision making demands no less," Shaub added.
In January, Trump signed an executive order that prohibited lobbyists and lawyers from working for two years on particular government matters that involved recent former clients. But the administration reserved the right to issue waivers from that rule in specific cases. The White House has declined to post such waivers publicly. Former President Barack Obama's administration, which had a similar set of rules, did post waivers. Waivers aren't required to be published under federal law.
Rising Tension
Shaub had asked all federal agencies last month to supply him with copies of the administration's waivers -- and Mulvaney responded with a letter asking OGE to stay that request, the New York Times reported Monday. Shaub's refusal to postpone his inquiry may escalate tensions between the ethics agency and the White House that began before Trump took office.
An OMB spokesman, John Czwartacki, declined Monday night to comment on the letter, saying the agency hadn't seen it.
Under Trump's order, federal agencies can suspend the lobbying requirements for various reasons, including in cases where an appointee's expertise in a particular matter outweighs the potential for any conflict of interest.
In April, for example, the government issued a waiver to former OMB official Marcus Peacock, who left the administration to join the Business Roundtable, a business-advocacy group. The waiver shortened the requirements under Trump's order that would have prevented Peacock from lobbying for five years. The administration has hired registered lobbyists, although it's not immediately clear the extent to which their work overlaps with prior clients' priorities.
Shaub, a 13-year veteran of OGE who was appointed to a five-year term as its director by Obama in 2013, has clashed with Trump and his team over ethics issues before, notably the president's decision not to divest his assets before taking office.
Rare Step
Shaub took the unusual step in January of publicly criticizing Trump's decision. 
"Officials in any administration need their president to show ethics matters, not only through words but also through deeds," he said in an appearance at the Brookings Institution. "This is vitally important if we're going to have any kind of ethics program."
When he requested the waiver information from agencies last month, Shaub specified that his request was "including White House officials." The White House counsel's office has argued in an earlier letter that many of OGE's regulations don't apply to employees of the Executive Office of the President, which is not always considered a federal agency for purposes of various federal rules.
But Shaub wrote in an earlier response to that position: "The assertion is incorrect, and the letter cites no legal basis for it."
In addition to Mulvaney, Shaub also sent his May 22 letter to top lawmakers on several congressional committees: Senate Judiciary, Senate Homeland Security and Governmental Affairs, House Oversight and Governmental Reform, and House Judiciary.
He has set a June 1 deadline for agencies to respond. Earlier this month, Shaub also announced he would require certifications that Senate-confirmed presidential appointees were complying with their ethics agreements -- which govern how they'll resolve potential conflicts of interest by divesting their assets. He said he'd post the documentation to the agency's website.
In addition to questions about resignations and divestitures that frequently appear as part of any appointee's ethics agreements, the new certification asks about waivers.
Before it's here, it's on the Bloomberg Terminal.
LEARN MORE