politics
Trump Dials Back Islam Critique as He Basks in Saudi Deals
By , , and
President delivers speech to regional leaders on terrorism

Trump embattled at home on first foreign trip as president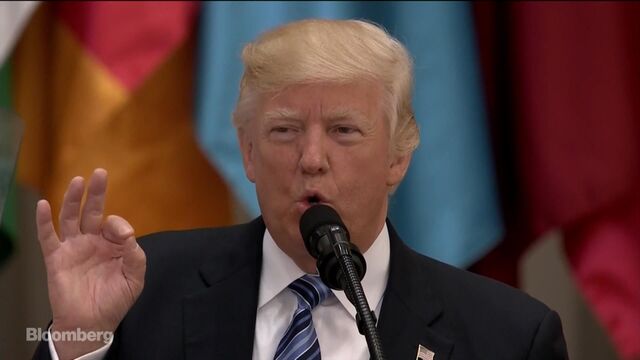 President Donald Trump said the war on terrorism isn't a battle between different faiths, toning down rhetoric that had fueled concerns America was at war with Islam.
On the second day of his inaugural foreign trip, where he's been hailed by Arab leaders as a "dear brother" and a man with "unique personality," Trump told Muslim allies on Sunday not to wait for U.S. help to crush terror groups. Countries must ensure that terrorists find "no sanctuary," he said in a speech to more than 50 leaders who gathered in Riyadh.
"This is a battle between good and evil," Trump said. "Drive them out of your places of worship, your communities, your Holy Land and the Earth."
The focus of Trump's visit to Saudi Arabia is shifting to politics, a day after major U.S. companies signed multi-billion dollar deals in the defense, energy and infrastructure industries.
Trump repeatedly acknowledged the efforts and achievements of Muslim countries in battling extremism. He singled out Shiite-ruled Iran, Saudi Arabia's main regional rival, for sponsoring terrorism financially and militarily from Syria to Yemen. Iran's leaders speak "openly" of mass murder, Trump said.
Trump's speech was aimed at easing concerns that the administration's policies deliberately discriminate against Muslims. During last year's presidential campaign and in his first months in office, Trump railed against "radical Islamic terrorism" and sought to temporarily ban people from various Muslim-majority countries from entering the U.S.

Trump even expressed an openness during his campaign for the concept of a registry for Muslims living in the U.S. and declared, "I think Islam hates us."
In his speech in Riyadh, he described Islam as "one of the world's great faiths."
Trump's address and others made by regional leaders including King Abdullah II of Jordan and Egyptian President Abdel-Fattah El-Sisi capped two days of diplomacy and deal-making.
The streets of Riyadh were festooned with U.S. and Saudi Arabian flags for the occasion, while Trump's face was projected onto the Ritz-Carlton hotel. Giant billboards carried some of Trump's tweets: "Great to be in Riyadh," one of them read.
Sitting next to El-Sisi at the Ritz-Carlton hotel in Riyadh in the morning, Trump praised the Egyptian leader for what he said were successful efforts to fight terrorism under "trying circumstances."
"You have a unique personality that is capable of doing the impossible," El-Sisi said.
"I agree," the U.S. president replied.
Earlier in the day, he promised the king of Bahrain that ties will improve under his administration. "There won't be strain with this relationship," Trump said. Later, sitting next to Qatar's Emir Sheikh Tamim bin Hamad Al Thani, Trump said the two would discuss "the purchase of lots of beautiful military equipment, because nobody makes it like the United States."

He also met the emir of Kuwait, Sheikh Sabah Al-Ahmad Al-Sabah, who referred to the president as "my brother Trump." Trump said Kuwait buys "tremendous amounts of our military equipment," and said that means "jobs, jobs, jobs."
Amid the fanfare, the president's troubles back home deepened. Former Federal Bureau of Investigation Director James Comey agreed to testify in open session about a probe into suspected Russian meddling with the 2016 U.S. election. The Justice Department appointed Robert Mueller, the former director of the FBI, as special counsel to lead the probe into the issue and whether anyone close to Trump colluded in the effort.
U.S. officials traveling with Trump said the events in Washington didn't affect the trip.
The grand reception in Riyadh reflected a desire by Gulf Arab leaders to reset relations with the U.S. after eight years of frosty ties with President Barack Obama, who made reaching a nuclear agreement with Iran a center theme of his presidency.
The summit on Sunday also focused on how to stem what is viewed by Arab Gulf states as Iran's rising political sway in the region. Foreign Minister Adel al-Jubeir, in a joint news conference with Secretary of State Rex Tillerson on Saturday, played down the suggestion that the reelection of Iranian President Hassan Rouhani would help improve ties.
"We want to see deeds, not words," al-Jubeir said.
Trump leaves for Israel on Monday morning, before heading to North Atlantic Treaty Organization and Group of Seven meetings later in the week.

— With assistance by Andrew J Barden, and Filipe Pacheco
(
Updates with Trump's remarks from the first paragraph.
)
Before it's here, it's on the Bloomberg Terminal.
LEARN MORE