North Korea Tests Another Missile in Latest Kim Provocation
By and
Ballistic missile traveled 500 kilometers, South Korea says

U.S. says still in early stages of applying economic pressure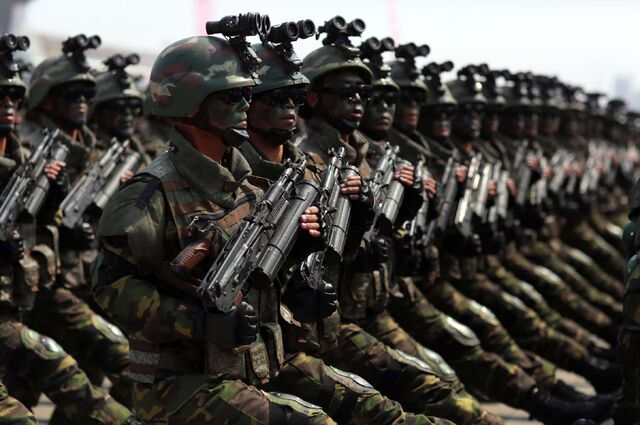 North Korea conducted another ballistic missile test on Sunday, ratcheting up tensions in the region as Kim Jong Un persists with his nuclear program.
The projectile was fired from Pukchang, northeast of Pyongyang, at 4:59 p.m. and flew about 500 kilometers (310 miles), South Korea's joint chiefs of staff said. The U.S. is aware of the launch and believes the missile has a shorter range than the three tested most recently, an administration official said. Japanese Chief Cabinet Secretary Yoshihide Suga said it landed in the Sea of Japan and didn't reach the nation's exclusive economic zone.
South Korea's military said it will conduct further analysis of the launch, which comes just a week after North Korea tested a rocket that it said could carry a "large-size heavy nuclear warhead" over long distances. U.S. President Donald Trump has said military action is an option to prevent Kim's regime from developing missiles that could carry a nuclear warhead to North America.
Secretary of State Rex Tillerson called the ongoing testing "disappointing" and "disturbing." But he said the U.S. is in the early stages of applying economic and diplomatic pressure, and that perhaps North Korea is "acting out now in response to some of this pressure that I believe they're beginning to feel" as a result.
"Hopefully they will get the message that the pathway of continuing their nuclear arms program is not a pathway to security or certainly prosperity," Tillerson said on "Fox News Sunday."
New President
The U.S. Pacific Command in Honolulu said the missile launched Sunday "did not pose a threat to North America," according to an emailed statement from David Benham, director of media operations.
South Korea convened a meeting of its National Security Council, hours after the nation's new President Moon Jae-in appointed diplomat Chung Eui-yong as its chief. Chung, a former ambassador to Geneva, will use his diplomatic skills to tackle issues including North Korea's nuclear development, the presidential office said.
Moon came to office earlier this month pledging to engage with Kim's regime to bring peace to the peninsula. Those plans have already come unstuck, with Moon condemning last week's test and saying that any talks will only be possible once North Korea changes its attitude.
Earlier Sunday, Moon left for his private home in Yangsan, a small city near Busan in the South, for a break on Monday and to attend the eighth anniversary of the death of his mentor, the late President Roh Moo-hyun, on Tuesday, spokesman Park Su Hyun said at a briefing earlier in the day.

Japanese Prime Minister Shinzo Abe said the launch was an unacceptable provocation that undermines global efforts for peace, according to remarks broadcast on NHK Television. Japan will work with Russia and China as well as the U.S. and South Korea to deal with the issue, Abe said.
Last week's missile, which North Korea said was a new rocket called a Hwasong-12, flew at a steep trajectory to avoid neighboring countries, reaching an altitude of 2,111.5 kilometers before plunging in open waters 787 kilometers away. Analysts estimated that it was capable of flying about 4,500 kilometers -- within range of U.S. military facilities on the island of Guam.
North Korea has now test-fired ballistic missiles eight times this year, defying United Nations sanctions and Trump's warnings. The regime has persisted with the tests even as Trump lauds efforts by China -- North Korea's main ally and economic lifeline -- to rein in its neighbor.
— With assistance by Andy Sharp, Margaret Talev, Isabel Reynolds, and Mark Niquette
Before it's here, it's on the Bloomberg Terminal.
LEARN MORE