Japan Urges Unity Among 11 Nations Left in TPP Pact, Seko Says
By and
U.S. withdrawal regrettable but pact still beneficial: Seko

Japan Trade Minister Hiroshige Seko speaks in interview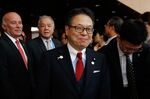 Japan still regrets the U.S. withdrawal from a Pacific trade pact but is focused on promoting unity among the 11 remaining countries in order to salvage the agreement, according to Trade Minister Hiroshige Seko.
Seko met this weekend in Hanoi with new U.S. Trade Representative Robert Lighthizer, and said the two agreed to build on the Japan-U.S. economic dialogue agreed to months ago by their leaders.
Seko indicated Japan was looking to move beyond the U.S. decision to pull out of the Trans-Pacific Partnership, downplaying Lighthizer's public comment in Vietnam that America wouldn't change its mind about a pact that would've covered 40 percent of the global economy. President Donald Trump has said his decision was based on his view the deal would cost the U.S. jobs.
"Of course, the U.S. is a massive economy and it is extremely unfortunate that such a large market should be excluded from TPP," Seko said on Sunday in an interview in Hanoi. "There is a degree of merit in terms of market access, but TPP is not just about market access," he said. "It is of a high standard and rules-based."
With the U.S. out, Japan is the largest remaining economy in the TPP. The agreement goes further in tackling non-tariff barriers than the Regional Comprehensive Economic Partnership, a separate 16-nation Asia trade deal that includes China and India.
'Extremely Valuable'
"No agreement other than TPP goes so far into digital trade, intellectual property and improving customs procedures," Seko said. "So it includes extremely high-level rules."
"Even without America it is a high-level, extremely valuable agreement," he added.
Prime Minister Shinzo Abe's policy now is "is to maintain the unity among the TPP 11," Seko said, and to show them the value in continuing without the U.S. As recently as November, Abe said a TPP deal without the U.S. would be "meaningless."
TPP member nations met on the sidelines of the Asia-Pacific Economic Cooperation trade ministers' meeting and agreed to start a process to put it into force, the ministers said earlier Sunday in a joint statement. They will ask senior trade officials to find a way to take the pact forward and report back by the APEC leaders' summit in November in Vietnam.
Officials will assess how to bring the agreement to life as soon as possible, "including how to facilitate membership for the original signatories," the ministers said. "These efforts would address our concern about protectionism, contribute to maintaining open markets, strengthening the rules-based international trading system, increasing world trade, and raising living standards."
'High Standards'
Seko said his meeting with Lighthizer built on an understanding reached between Trump and Abe in their meeting in February to focus on one-on-one trade talks.
"At the meeting with USTR Lighthizer yesterday, we shared our mutual interest in strengthening trade and economic links between our two countries," Seko said. "We agreed that we would promote trade beneficial to both sides. We also said we would deal with barriers to trade and distortions to trade in order to promote economic growth. We also agreed to set high standards."
The two shared concerns about the unfair trade practices of a "third party," and agreed to strengthen cooperation against that threat, Seko said. He did not identify the country by name but both the U.S. and Japan have had trade tensions in the past with China.
Before it's here, it's on the Bloomberg Terminal.
LEARN MORE