Tories Break Through in Towns That Once Hated Them
By
In Shotton, one-time steel workers lost jobs under Thatcher

Polls suggest Tories to win in Wales for first time since 1922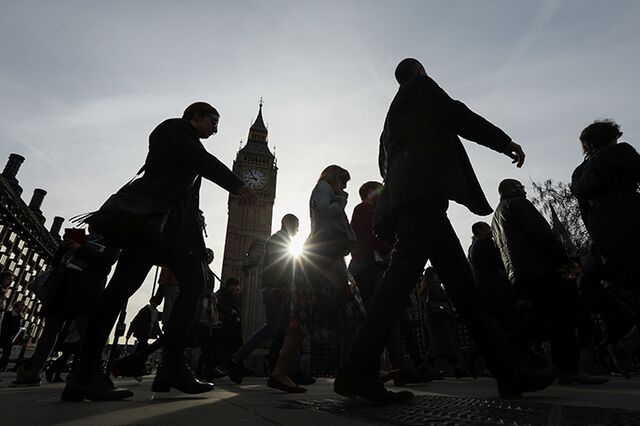 In 1980, David Cottrell was among 10,000 steel workers who lost their jobs under Conservative Prime Minister Margaret Thatcher when the nationalized British Steel Corp. closed its plant in Shotton, northeast Wales.
Thirty-seven years later, Cottrell is 62 and owns the Creature Comforts pet shop in nearby Connah's Quay. Despite the massive job losses in the area under Thatcher, it's the Tories to whom the former Labour voter is turning this time around to safeguard the local economy.

"Theresa May is a breath of fresh air: she's not the typical Conservative leader, and she appeals to the Labour grassroots," says Cottrell, a former union member and Labour voter who's backing the prime minister. "I can't support the current Labour leadership."
May has courted working-class voters who feel betrayed by the forces of globalization by telling them they are right to be skeptical of politicians, that life will get hard but she'll try to level the playing field. It's a message that struck a chord in these former mining or steel-producing towns finally ready to bury their Tory grudge and switch sides after a century as Labour bastions.
Another factor playing in the Tories' favor is that the desire to leave the European Union prevailed in Wales, one of the birthplaces of the 19th-century industrial revolution and where trade unions once dominated. Only five out 22 local government districts voted to stay in last year's referendum in yet another sign that Brexit has redrawn the U.K.'s political map to test historic party allegiances.

Spying an opportunity to win seats, May was in Wrexham, north Wales after making an earlier campaign visit to Bridgend and Newport in south Wales last month.
Polls Whipsaw
But fortunes in Wales can change quickly. A month ago, a poll showed Conservatives on track for a historic breakthrough. But on the day of May's visit, a YouGov poll conducted for ITV showed that momentum had gone into reverse. Earlier on Monday, she announced a policy U-turn on an unpopular elderly-care plan that Labour had branded "dementia tax."
"One runs out of adjectives to describe how shattering it would be if the Conservatives were to end up as the largest party in Wales," said Richard Wyn Jones, professor of Welsh politics at Cardiff University. "There are some low-hanging fruits for the Tories in northeast Wales. That's where Labour looks most vulnerable."
However, Wyn Jones also warned "Welsh Labour has this impressive record of doing just enough to escape the clutches of its enemies." While Tories remain far ahead of Labour, the main opposition party is narrowing the gap. Fact remains that if May does well in Wales, it would suggest she can win big in other parts of the country too.
Pressed up against the English border, the constituency of Alyn and Deeside relies on manufacturing. Tata Steel Ltd. employs more than 700 people in Shotton, while Airbus SE has 6,000 workers at a sprawling wing assembly plant at Broughton. Dependent as it is on the free movement of parts and workers across EU borders, the full force of Brexit will hit here.

The area has been represented in Parliament by Labour politician Mark Tami since 2001, and Cottrell thinks he "should be worried."
"We're in for quite choppy waters ahead, and I'm stressing to voters that I have that experience to get us through," Tami said in an interview at the local Labour Club. He is taking the Conservative threat "very seriously."
Up the road from Airbus, a shop called Charlotte James hires out elegant ladies' gowns and hats for special occasions. Owner Debbie Kellett, 52, frets that Brexit will cost the area jobs and hurt her business.
While Labour says it'll prioritize jobs and the economy in the Brexit negotiations, it's the premier whom Kellett trusts.
"Brexit is a disaster and I would rather it is in her hands because she'll get the best deal possible," Kellett said. "In the long run I think it'll be bad for jobs at Airbus. In five to 10 years, if they're thinking about expanding, or moving particular pieces of work, they'll think twice before doing it here."
The problem for lawmakers like Tami trying to hold on to their seats is that people are not looking at his track record as much as who is leading party. The prime minister is more popular than her Conservatives -- so much so that she is running her campaign under her personal brand -- while Labour leader Jeremy Corbyn rates worse than his party.
Locals believe May's rhetoric that she provides "strong and stable leadership." In interviews last week, voter after voter in this Labour stronghold brought up -- unprompted -- the contrast between May and Corbyn.
May's Tour
That means that places like Alyn and Deeside and neighboring Delyn and Wrexham could all fall to the Tories. In South Wales, all of Labour's seats in Cardiff and Newport look "vulnerable," according to Wyn Jones, who noted that the Tories are also "very keenly" targeting Bridgend, one of the earlier campaign stops for May and home to a Ford Motor Co. engine plant.
"I know that sense of disenchantment is particularly acute here in Wales," May said during her visit. "It's because the Labour party has taken people in Wales for granted for decades."

For Ronald Young, a 68-year-old retired ambulance worker who's switching from Labour, May is the "only sensible" party leader. Edna Jones, a chef, also plans to switch to the Tories because May is "a very strong woman who's in touch with everyday people."
"I don't see how anyone could possibly vote for Corbyn –- he's more an activist than a prime minister," said Claire Power, a 43-year-old hairdresser, outside her home in Broughton. "You definitely feel safer with her leading the country."
Alyn and Deeside has returned Labour members of Parliament since its creation in 1983 -- the year Thatcher dealt Labour its biggest defeat since the 1930s. Before that, it was part of the east Flintshire seat created in 1950. That too, was always Labour.
Now, Tory candidate Laura Knightly, 28, spies an "excellent" chance of seizing the seat after trailing Tami by more that 3,000 votes in 2015. Of 15 people approached by Bloomberg who were prepared to divulge their voting intention, eight planned to vote Conservative, and seven Labour. But several of those Labour voters were lukewarm in their praise for Corbyn.
"Jeremy Corbyn is decent, but he doesn't seem the strongest of leaders," said Harry Mercer, 23, a hospitality worker. "Especially in the face of the new Iron Lady."
Before it's here, it's on the Bloomberg Terminal.
LEARN MORE