business
Equity Bug Bites India's Small-Town Investors as Stocks Soar
By and
Fund sales outside big cities jump as gold loses allure

Local equity savings to rise by $420b by 2016: Morgan Stanley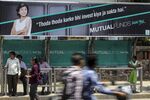 India's stock market boom is fanning out to the country's hinterland.
Flows into mutual funds from towns outside India's 15 biggest cities surged 41 percent to a record 3.1 trillion rupees ($48 billion) at the end of March, according to the latest data from the Association of Mutual Funds in India. And half of this money flowed into equity funds.
Amit Goyal, a 36-year-old human resources executive from the northern city of Dehradun, embodies this trend. He began putting 4,000 rupees every month into funds last year. Encouraged by the rising value of the investments, he has since made lump sum additions.

"Investing in equities provides me with higher returns and helps create a buffer for future expenses," Goyal said by phone. "Earlier, my investments were restricted to fixed deposits and a bit of real estate, with the rest of the money idling in a bank account."
With the nation's shares trading near all-time highs, the mutual fund industry is reaching into small towns through television, social media and billboards, pitching alternatives to bank deposits and gold. The flows have added to money managers' heft, providing a buffer against outflows sparked by global shocks.
See also: Locals Drive Indian Stock Market as Foreigners' Influence Ebbs
"We used to get 85 percent of the money from the top 15 cities and the rest from smaller places. Now, collections from small towns have doubled," said Sunil Subramaniam, chief executive officer at Sundaram Asset Management Co., which oversees $4.6 billion. "Returns from other avenues have dried up, prompting small-town savers to take to mutual funds."

Industry-wide accounts reached a record 55 million as of March 31, with 80 percent of them in stock plans, data from AMFI show. Analysts attribute the trend to a mix of factors:
Rates on bank deposits, the mainstay of Indian savers, are at multi-year lows and local gold prices have stagnated.
Stock funds, in comparison, have returned an average 16 percent annually in the past three years. The S&P BSE Sensex rose to a fresh record in intraday trading on Monday. Even bond funds have beaten deposits by a wide margin: Bloomberg data.
AMFI's nationwide "Mutual Funds are Right" awareness campaign is resonating with first-time investors.
"A majority of new investors who come to us cite unattractive returns on alternate assets as a key reason for buying funds," Vidya Bala, head of research at FundsIndia, said by phone. "The industry has cashed in on this trigger by ramping its outreach program."
'Mental Block'
At a meeting with a funds distributor eight months ago, Animesh Soni, a 37-year-old steel trader in the central city of Indore, realized the futility of deposits. He has since been putting 15,000 rupees a month in a plan that invests in shares and bonds. What's more, Soni said he persuaded his parents to shift to a debt fund.
"It was a mental block, probably got from my parents, that it is best to keep money in a bank deposit," he said. "It was a good decision to move. My funds have grown."
The share of flows from smaller locations is set to grow as households shift more money into financial assets. Local equity savings will swell by $420 billion over the next decade, Morgan Stanley said in a note dated May 2. That would equal 1.4 percent of India's gross domestic product by fiscal 2026, twice the current proportion, the report said.
"The potential is huge and this is only a start," said Kaustubh Belapurkar, director of fund research at Morningstar Investment Adviser India Pvt.
— With assistance by Ravil Shirodkar
(
Adds Monday's trading in second bullet point after seven paragraph.
)
Before it's here, it's on the Bloomberg Terminal.
LEARN MORE