Taiwan's Opposition Kuomintang Elects Wu Den-yih as Chairman
By
Wu advocates '1992 Consensus' for peaceful ties with China

Incumbent chairwoman backs peace treaty across strait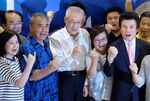 Taiwan's main opposition Kuomintang elected Wu Den-yih as chairman, and the former vice president immediately pledged to lead the century-old party back to power and called for peaceful relations with China.
"We have to be united in this difficult time," Wu, 69, said Saturday in a victory speech. "There won't be any chance for us if we are not united."

His election was welcomed by China's President Xi Jinping, who said in a letter to Wu that he hoped the two parties will keep in mind the well-being of people on both sides of the Taiwan Strait, adhere to the 1992 Consensus and firmly oppose "Taiwan independence."
The winner received 52.24 percent of the vote, avoiding a runoff in defeating incumbent Hung Hsiu-chu, former Taipei City Mayor Hau Lung-bin and three other candidates. Turnout was 58.05 percent of eligible voters, election committee head Hsu Shui-teh said. Wu's four year term will begin Aug. 20, KMT spokesman Tang Te-ming said.
Wu, first premier then vice president in former President Ma Ying-jeou's administration, aims to create a peaceful and stable relationship with the Beijing government based on the so-called 1992 Consensus, in which both sides across the Taiwan Strait agreed there is one China while allowing each its own interpretation of what that means. 
2020 Elections
"We have to prepare in order to seek opportunities to win legislature and presidential elections in 2020," Wu said. He said he will build youth confidence and trust in the party.
Current Chairwoman Hung Hsiu-chu, who backed signing a peace treaty with China, finished second with 19.2 percent. Hung was the first woman elected party chief, in March 2016, after the more China-friendly party lost its legislative majority when Tsai Ing-wen's independence-leaning Democratic Progressive Party won the presidency in a landslide.
Wu faces a demoralized membership after the election loss last year along with internal splits among party leaders. The party's finances also could weigh on the new leader as Tsai's administration seeks to confiscate more than $500 million from KMT. The DPP-led legislature last year passed a law seeking the return of Kuomintang-held state assets.
"I thank fellow members for being willing to shoulder responsibilities at this difficult time," Hung said after the election results. "The new chief will lead our party to reform in the coming years in order to return to power."
— With assistance by Jing Yang De Morel
Before it's here, it's on the Bloomberg Terminal.
LEARN MORE