Your Evening Briefing
Here are today's top stories
Bloomberg News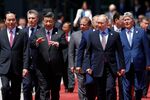 The evening briefing will soon be available in your inbox every day. To be among the first to get it, sign up here.
Frictions with China may see Singapore miss out on billions.  At Xi Jinping's summit this week on his $500 billion Belt-and-Road initiative, Malaysia's prime minister inked $7.2 billion in deals while Indonesia's president signed a $5 billion loan facility. And Singapore? It sent its development minister, who signed a memorandum with China aimed at improving bilateral relations. China views Singapore as being less supportive of Xi's plan, according to people familiar with the matter. —Kristine Servando
How China is fighting the risk of a wider market meltdown. China has an insurance policy against a full-scale market meltdown: the daily currency fixing. Officials have been guiding the yuan higher against the dollar in a move that's caught market watchers by surprise.
This is the best-performing casino stock in the world. Chinese gamblers are fueling a 125 percent surge  in shares of Melco Crown Philippines Corp., a subsidiary of Hong Kong's Melco Resorts & Entertainment Ltd. The close connection with Macau puts the Philippine casino in the box seat to benefit from President Rodrigo Duterte's bid to ease tensions with Beijing. 
Would you let Trump run your company? Of all the ways to measure President Trump, judging him as a chief executive would seem the fairest. As Bloomberg editor-in-chief John Micklethwait writes: "The Comey fracas is the latest in a long list of apparent transgressions for which a normal CEO might lose his job." As for investors, they're thinking twice about deals with the Trumps and Kushners precisely because of the scrutiny produced by their position.
These are the winners and losers of India's new GST. The wait is over. India has cleared the way for the biggest tax reform since independence in 1947. Consumer staples, hearing aids and steelmakers came out as winners  on the nation's new goods and services tax, while smokers' wallets and air conditioners are among the losers. In total, rates for about 1,211 goods were fixed, and the tax will be implemented July 1.
A Japanese tycoon sparked gasps at a Sotheby's auction when he agreed to pay a record $110.5 million for an untitled Jean Michel-Basquiat painting. Online retail magnate Yusaku Maezawa won a 10-minute bidding war for the 1982 work, with the price setting a record for any American artist.
How to eat like a Goldman executive. Co-Chief Operating Officer David Solomon, who along with Harvey Schwartz was elevated to the firm's No. 2 position in December, eats out as frequently as some food critics. He shares over a dozen of his favorite New York bars and restaurants for everything from veal-parmesan power meals to fried chicken. Just don't interrupt him while he's eating.
A wave of good. For some surfers, it's not enough to simply enjoy Indonesia's exquisite beaches and world-class waves—they're also giving back to coastal communities, raising funds for beach restoration and access to clean water. Luxury resorts, too, are leveraging their charities and programs to engage travelers. Here are the island hotspots that combine the very best waves with a good cause.
Before it's here, it's on the Bloomberg Terminal.
LEARN MORE