Xi Says China Willing to Improve Strained Ties With South Korea
Bloomberg News
President wants to 'preserve hard-won results' with Seoul

Speaks during meeting with new South Korea leader's envoy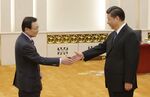 President Xi Jinping said China was open to efforts by South Korea's new president to improve relations strained over his predecessor's response to North Korea.
"We're willing to work with South Korea to preserve the hard-won results, properly handle disputes, put China-South Korea relations back onto a normal track and benefit both peoples on the basis of mutual understanding and mutual respect," Xi told special South Korean envoy Lee Hae-chan during a meeting Friday in Beijing. Lee handed Xi a letter from President Moon Jae-in and expressed his gratitude for the warm reception.
Earlier on Friday, Lee met with Chinese State Councilor Yang Jiechi and described relations as having reached a critical moment. That echoed sentiments expressed Thursday by Chinese Foreign Minister Wang Yi, who said relations were at a "crossroads" and told Lee he hoped South Korea would "correct the problems we have encountered."
The meetings follow a telephone conversation between the two presidents last week in which Moon expressed awareness of China's concerns about the installation of a U.S. missile shield in South Korea. Moon, a former opposition leader who was elected May 9, told Xi during that first call that it might become easier to settle differences over the Terminal High Altitude Area Defense system if North Korea stopped its provocations.
Power Vacuum
U.S. President Donald Trump has sought the help of China, South Korea and Japan in pressuring North Korean leader Kim Jong Un to halt testing of nuclear weapons and ballistic missiles. The impeachment and ouster of Park Geun-hye, which precipitated Moon's election, left a vacuum in South Korea's leadership at a time when tensions on the peninsula rose to the highest in years.
South Korea has said it needs Thaad to defend itself from North Korea, but China considers its radars a threat to regional stability. China retaliated against the decision to allow the system by suspending Korean retail giant Lotte Mart's stores in its territory, banning package tours and imposing stricter rules for sales of Korean cosmetics products.
An explainer on why Thaad so bothers China
Moon has long said that the next South Korean government should review the Thaad deployment and decide to allow it only after seeking China's understanding. In his inaugural address, he promised to "negotiate sincerely" with the U.S. and China to resolve the issue. He also wants China to play a greater role to convince Kim to give up his quest to develop a nuclear weapon that can reach the American mainland.
— With assistance by Yinan Zhao, and Christina Larson
Before it's here, it's on the Bloomberg Terminal.
LEARN MORE