politics
Weiner Pleads Guilty in 'Sexting' Case Linked to Election
By
Admission caps huge fall of ex-Congressman, mayoral hopeful

Investigation led FBI to reopen review of Clinton's emails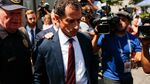 Anthony Weiner pleaded guilty to sending sexually explicit messages to a 15-year-old girl, capping a staggering downfall for the former Congressman and New York mayoral candidate and resolving a case that played a major role in the final days of the 2016 presidential election.
Weiner admitted to a single criminal count of transmitting obscene material to a minor in a hearing Friday in Manhattan federal court. An FBI investigation into Weiner's sexually explicit messages turned up emails that had been sent to his wife, Huma Abedin, then a top aide to Democratic presidential candidate Hillary Clinton.
Weiner told U.S. District Judge Loretta Preska he has a "sickness" that caused him to compulsively engage in sex chats with women on social media.
"These destructive impulses brought great devastation to family and friends, and destroyed my life's dream of public service," said a tearful Weiner, his voice frequently breaking from emotion. "And yet, I remained in denial even as the world around me fell apart."
Weiner faces as much as 10 years in prison when he's sentenced Sept. 8. As part of a plea deal, prosecutors will seek a term of 21 months to 27 months, which isn't binding on the sentencing judge. Weiner must register as a sex offender and will forfeit his iPhone.
Campaign Link
As part of the FBI investigation, agents seized Weiner's laptop computer, which had emails to Abedin, a senior adviser to Clinton's presidential campaign, from whom he's separated. On Oct. 28, former FBI Director James Comey sent a letter informing Congress that agents were reviewing the emails "to determine whether they contain classified information" relevant to a separate investigation of Clinton's use of a private email server while Secretary of State.
On Nov. 6, two days before the election, Comey sent a second letter to Congress saying the FBI had reviewed the emails on Weiner's laptop. "Based on our review, we have not changed our conclusions" not to recommend criminal charges against Clinton, Comey wrote. Clinton later blamed Comey's actions for her loss to Donald Trump in the election.
Weiner, 52, began his political career as an aide to then-U.S. Representative Chuck Schumer, a Democrat who is now a Senator from New York. Weiner won a seat on the New York City Council in 1991 at 27, and was elected to Schumer's former House seat in 1998. 
Weiner was reelected six times, but was forced to resign in 2011 after admitting to "inappropriate conversations" with six women during three years, including on Facebook, e-mail, Twitter and on the phone.
Anthony Weiner Won't Be Silenced as New Film Puts Politician Back in Spotlight
In 2005, he had an unsuccessful run for mayor of New York and tried again in 2013. That bid was ruined when news broke that Weiner, using the alias "Carlos Danger," had sent explicit pictures to an Indiana woman.
"Weiner's conduct was not only reprehensible, but a federal crime, one for which he is now convicted and will be sentenced," Acting Manhattan U.S. Attorney Joon Kim said in a statement.
— With assistance by Henry Goldman
(
Updates with Weiner comment.
)
Before it's here, it's on the Bloomberg Terminal.
LEARN MORE