Trump Will Reiterate His Commitment to NATO, Stoltenberg Says
By
Jens Stoltenberg comments in interview with Bloomberg TV

U.S. President to meet NATO, EU leaders on May 25 in Brussels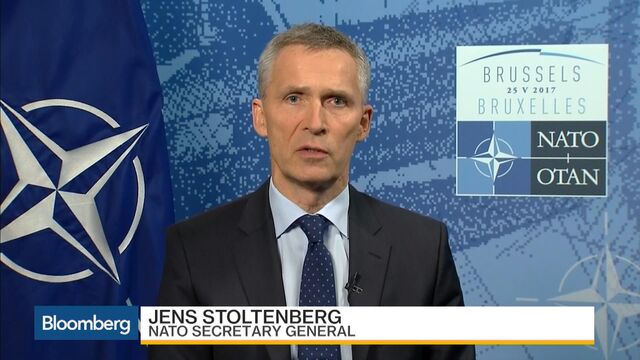 North Atlantic Treaty Organization Secretary General Jens Stoltenberg sought to dispel lingering doubts about Donald Trump's commitment to the alliance that the U.S. president once called obsolete.
"President Trump has clearly stated to me in several conversations, last when we met in the White House in April, that he's strongly committed to NATO and that's also been the message from his security team," Stoltenberg said in a Bloomberg TV interview with David Gura on Friday. "I hope and I expect that he will reiterate his strong commitment to NATO."
Trump will meet European leaders in Brussels next week, against the backdrop of an ongoing probe of possible ties between his campaign and Russia -- the adversary that NATO was created to deter. Persisting disagreements about the alliance's role in a U.S.-led international coalition against terrorism, following clashes earlier this year about defense spending, risk derailing a gathering intended to reassure allies of the strength of the trans-Atlantic relationship.
"The question is whether NATO can do even more and also whether NATO should join the coalition" against the Islamic State, Stoltenberg said. "Some allies are strongly advocating that because it would be a strong expression of political support and also it would increase our ability to coordinate with other NATO allies that are already members of the alliance."

In January, Trump called NATO obsolete, and three months later changed course, saying that the military alliance was "no longer obsolete" in fighting terrorism.
On May 25, NATO leaders will inaugurate its new headquarters in Brussels, which will display pieces of the Berlin Wall and the Twin Towers. In the dinner to follow, each of the 30 leaders will be allowed about 4 minutes to speak, while there won't be a joint statement after the meeting, as this isn't a formal summit, officials familiar with the preparations said.
"Getting ready for my big foreign trip. Will be strongly protecting American interests -- that's what I like to do!" Trump said in a Twitter post on Friday. In addition to increases in defense spending, and more active involvement in counter-terrorism, he's also expected to push allies for more troops in Afghanistan.
"What is clear is we will continue our military presence, training mission in Afghanistan, then we are looking if there is a need for some increase in the troop levels," Stoltenberg said. "I expect decisions to be taken in the coming weeks."
Leaders are nearing a compromise on defense spending, after European states including Germany and Italy resisted pressure from the U.S. to come up with plans by the end of this year to boost military payments to 2 percent of their gross domestic product, in line with a 2014 commitment. "We're now discussing concrete proposals on how we can agree on a concept of national plans," Stoltenberg said.
— With assistance by Jonathan Stearns
Before it's here, it's on the Bloomberg Terminal.
LEARN MORE