Why Israel Thinks Trump Is Focusing on the Wrong Enemy
By
President may be lobbied to set his sights on Iran, Hezbollah

Israelis see chance of new buffer zone beyond Golan Heights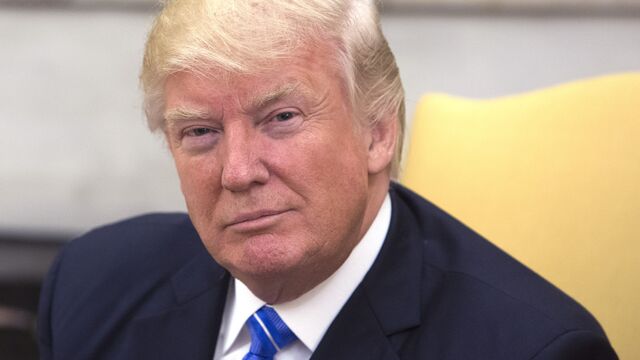 Plenty of young Israelis still go hiking through the Golan Heights, even though there's a war next door.
From the trail, which winds through vineyards, lush grazing meadows and sleepy Druze villages, you can hear the thump of artillery from Syria as Bashar al-Assad's army fights to dislodge rebels from a sliver of land in the country's south. As the path approaches the Sea of Galilee, you can see the small enclave held by Islamic State.

The jihadist group, in other words, is effectively a neighbor of the Jewish state -- but it's not the one that most concerns Israeli leaders. That would be Assad's ally Hezbollah and its backer, Iran. Donald Trump has argued that defeating Isis should be America's overwhelming priority in Syria. When the U.S. president arrives Monday in Israel, he'll likely be urged to take a different view of the conflict -- and maybe to help protect Israel from its fallout.
Islamic State "is being decimated," said Avi Dichter, chairman of the Israeli parliament's Foreign Affairs and Defense Committee, and a former head of the Shin Bet internal security agency. "They no longer have that many men on the ground. Iran, on the other hand, is a major regional threat."
If that threat is present in Syria and directed at Israel, he said, "that's a casus belli." Israel fought a month-long war in Lebanon with Hezbollah, a Shiite Muslim militia armed and supported by Iran, a decade ago.

The Golan, captured from Syria after the 1967 Mideast war, is internationally considered to be occupied territory; Prime Minister Benjamin Netanyahu has asked Trump to acknowledge Israeli sovereignty. The premier will also push for tough new sanctions on Iran, according to an aide, though another item on the Israeli wishlist -- to move the U.S. embassy to Jerusalem from Tel Aviv, as Trump promised to do -- is on hold for now.
Netanyahu, of course, is wary of Islamic State and other Sunni jihadist groups operating nearby, who fired missiles at Israel late last year. Still, the border has been relatively quiet for decades, and Netanyahu is keen to keep it that way.
That goal, in Israeli eyes, has been at risk since 2015 when the Syrian war swung in Assad's favor. Aided by Russian air power and tens of thousands of fighters from Iran and Hezbollah, Assad recaptured territory from jihadists and other rebels. Israeli officials say Iran is capitalizing on the gains, seeking to establish military facilities and a land corridor allowing it to deliver weapons to Hezbollah in Lebanon.
Netanyahu has spoken of a Syria free of Iranian influence, but it's not clear who would be willing to put enough boots on the ground to push Iran out.
According to Ephraim Karsh, director of the Begin-Sadat Center for Strategic Studies, Israel would settle for preventing Assad from regaining control of the area around the Golan, creating a de facto buffer zone that would keep Iran and Hezbollah at a distance.
"Israel doesn't think it can dislodge Iran from Syria," Karsh said. "If they want to be in Aleppo, let them be there. Israel just doesn't want Iran along the border."
For more politics coverage, subscribe to the Bloomberg Politics Balance of Power newsletter
'Honest Broker'
Now Israel is pinning its hopes on Trump.
Like many Middle Eastern leaders -- including the Saudis, who hosted the first leg of Trump's regional trip -- Netanyahu has welcomed the new administration's tougher line on Iran. Former U.S. President Barack Obama signed a nuclear deal with the Islamic Republic and chose not to attack Assad even after he used chemical weapons against civilians; Trump ordered a volley of cruise-missile strikes against the Syrian army last month after another chemical attack.
So far, that attack has been a one-off. With the president embroiled in domestic crisis, it's Russia rather than the U.S. that has seized the initiative in efforts to end the Syrian war. Netanyahu has kept open his channels to Russian President Vladimir Putin, meeting him more frequently than any other world leader in the last two years.
The latest Russian proposal envisages four "de-escalation zones" in Syria, policed by international forces. One of them would be in the south, the area of maximum concern to Israel.
Read more: QuickTake on Russia's safe zones and America's role
Israel isn't against the idea but wants "an honest broker" to oversee its implementation, according to a senior military official who spoke on condition of anonymity. The U.S., Israel's closest ally, would fit the bill, one reason the Jewish state's leaders are lobbying for more U.S. engagement in Syria.
'Waiting for the Sheriff'
"Russia is for now the main power in the region," said Zvi Magen, a former Israeli ambassador in Moscow and now senior research fellow at the Institute for National Security Studies in Tel Aviv. "But everyone's waiting for the sheriff to show up."
Trump's administration hasn't openly supported the Russian safe-zone initiative, but also hasn't ruled it out. Russian Foreign Minister Sergei Lavrov hinted at U.S. involvement after meeting Trump this month, saying Americans could take the lead in securing the southern zone.
Meanwhile, "Israel is shuttling between the Russians and Americans, making sure everyone knows it won't hesitate to use force to defend its core interests," Magen said.
So far, Israel has used force sparingly in Syria. It did strike at Islamic State last year, after militants fired at Israeli soldiers on the Golan, but most of its firepower has been reserved for the Assad-Hezbollah alliance, not Sunni jihadists. Airstrikes have taken out arms shipments bound for Hezbollah in Lebanon, and Israeli troops fire back at the Syrian army when its shells land in Israel by mistake.
Israel has also aided some of the Sunni rebels, providing food and medical treatment, according to government officials. As Assad and Hezbollah gained the upper hand, some Israelis, including former military intelligence chief Amos Yadlin, have argued for more open support of the rebels. But others, like former Defense Minister Moshe Yaalon, warn that Israel's unpopularity in the Muslim world means that if it openly backs one side, "we end up helping the other one."
A widespread view in Israel is that another war with Hezbollah, which has an arsenal of more than 100,000 rockets in Lebanon, is inevitable -- and will be harder to win if the Shiite militia is entrenched in southern Syria, a stone's throw from the Golan trail.
"You don't want to fight on two fronts," Karsh said.
— With assistance by Samuel Dodge
Before it's here, it's on the Bloomberg Terminal.
LEARN MORE