Rosenstein Defends Memo Condemning Comey Before Trump Fired Him
By and
Sessions' deputy says it was 'appropriate' to change FBI chief

Administration says no new FBI pick coming before Trump trip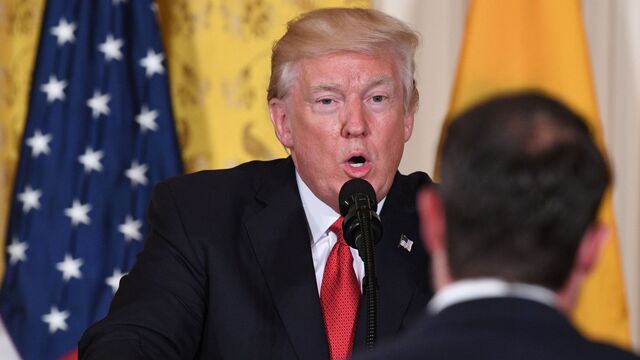 Deputy Attorney General Rod Rosenstein said he thought President Donald Trump's decision to fire FBI Director James Comey was the right call, providing his first public account of his role in the controversial dismissal.
"Notwithstanding my personal affection for Director Comey, I thought it was appropriate to seek a new leader," Rosenstein said in prepared remarks for appearances before House and Senate lawmakers that were released Friday by the Justice Department. He even said he had discussed the need for a change with then-Senator Jeff Sessions last winter. Sessions is now Rosenstein's boss as attorney general.
But the deputy attorney general added that a memo he wrote sharply criticizing Comey's handling of the probe into Hillary Clinton's use of a private email server was a "candid internal memorandum" that wasn't intended as "a statement of reasons to justify" the director's dismissal.
Rosenstein, who met behind closed doors with House members on Friday and senators on Thursday, has named Robert Mueller, a former FBI director, as special counsel under his authority to oversee the investigation of Russian meddling in last year's election and whether anyone close to Trump colluded in it. Sessions has recused himself from the probe.
Contradicting reports that Comey may have been fired after seeking additional resources for the Russia probe, Rosenstein wrote that he, his staff and acting FBI Director Andrew McCabe weren't aware of any such request.
Read what is -- and isn't -- special about a special counsel
The Capitol Hill briefing comes as Trump prepares to leave on his first foreign trip following a tumultuous two weeks that started with his May 9 firing of Comey and then was followed by a series of allegations that he sought the FBI chief's "loyalty" and wanted him to drop a probe of dismissed National Security Advisor Michael Flynn.
Although Trump initially said he planned to quickly nominate a new bureau director, he won't do so before departing Washington for Saudi Arabia Friday afternoon, according to an administration official. The president had said former Connecticut Senator Joseph Lieberman was one of his top choices for the job, but there seems to be little support for his candidacy among Senate Democrats. Until a new director is found, the bureau is overseen by McCabe.
In the aftermath of Comey's firing, Trump and his aides cited Rosenstein's memo as contributing to his decision, while Democrats have criticized the deputy attorney general for agreeing to write it.
'I Believe It'
Rosenstein stood by his decision: "I wrote it. I believe it. I stand by it." And he said he knew Trump already intended to fire Comey before he wrote the memo.
"On May 8, I learned that President Trump intended to remove Director Comey and sought my advice and input," Rosenstein wrote. His memo "summarized my longstanding concerns about Director Comey's public statements concerning the Secretary Clinton email investigation."
Specifically, Rosenstein wrote that Comey's July 5 press conference, in which he criticized Clinton's "careless" use of email while secretary of state but said she wouldn't be prosecuted, "was profoundly wrong and unfair both to the Department of Justice and Secretary Clinton." He also said Comey was wrong to send a letter to Congress on Oct. 28, less than two weeks before the presidential election, saying he was looking over new material in the case.
"He again usurped the authority of the Department of Justice, by sending the letter over the objection of the Department of Justice; flouted rules and deeply engrained traditions; and guaranteed that some people would accuse the FBI of interfering in the election," Rosenstein wrote.
'Mildly Nauseous'
Days later Comey closed the probe again, but Clinton and her aides have said the episode contributed to her defeat. Comey told lawmakers before his firing that the idea he may have affected the election made him "mildly nauseous," but he defended his decisions.
Trump told reporters Thursday that he had thought firing Comey would be a popular action, and that his decision was at least partly based on Comey's "poor performance" in testifying before Congress a few weeks earlier.
"I believe that's why the deputy attorney general went out and wrote his very, very strong letter," Trump said.
Even as Rosenstein sought to reassure lawmakers during the session, some Democrats emerged saying they were displeased with what they saw as his failure to outline the intent of the memo and whether he was directed to write it.
"That certainly does lead to questions of his independence and transparency," Representative Bonnie Watson Coleman, a Democrat from New Jersey, said. "I still have a lot of questions about transparency, about motivation and time frame."
Rosenstein appeared to expect that criticism, saying in his remarks that "there never has been, and never will be, any political interference in any matter under my supervision in the United States Department of Justice."
— With assistance by Billy House, Laura Litvan, and Terrence Dopp
Before it's here, it's on the Bloomberg Terminal.
LEARN MORE