Netanyahu Seeks 'Dirty Harry' Moment With Iran as Trump Arrives
By and
Top priority is sanctions against Iranian missiles, Oren says

Israel also wants buffer from Syria fighting, open Saudi ties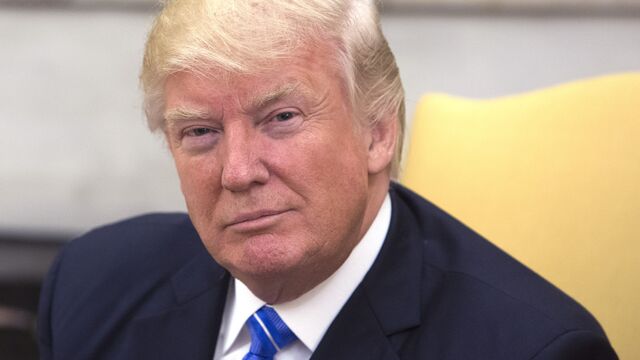 On the eve of Donald Trump's first visit to Israel, Prime Minister Benjamin Netanyahu is preparing to ask the U.S. president to impose tough new sanctions on Iran for threatening Israel with ballistic missiles and bankrolling terrorism, a close adviser said.
The restrictions would aim to inflict damage the way that blocking money transfers did before Iran signed the 2015 agreement to curtail its nuclear program, said Michael Oren, a deputy cabinet minister to Netanyahu and former ambassador to the U.S. The Israeli leader was among the most outspoken opponents of the deal and is prepared for renewed confrontation if Iran violates its terms, he said.

"That's a 'Dirty Harry' moment," Oren said in an interview on Thursday in Tel Aviv, referring to Clint Eastwood's detective character in the 1971 movie, who dared criminals to shoot at him so he could blow them away. "You have to exact a price for Iranian behavior."
Trump flies to Israel Monday from Saudi Arabia, which is also pushing the president to get tough on Iran. Trump has described the nuclear deal as a "disaster" and last week imposed new sanctions on Iran over its missile program -- ahead of the country's presidential election on Friday.
Fresh Start
For Netanyahu, Trump's visit is a chance to reset ties with the U.S. after relations deteriorated under former President Barack Obama. Netanyahu made a passionate speech to a joint meeting of the U.S. Congress in March 2015 to try to derail the Iran nuclear deal that Obama supported.
Since the nuclear deal was agreed in July 2015, Iran has tested ballistic missiles -- some inscribed with Hebrew-language threats to destroy Israel -- arguing that conventional weapons aren't covered by the pact. Iran also supports groups that have attacked Israel, including Hezbollah in Lebanon and Hamas in the Gaza Strip. 
The idea is to "link Iranian behavior to the deal" and apply sanctions that would keep Iran from doing business with the outside world, Oren said.
Besides Iran, Netanyahu also wants Trump's assistance in reviving Israeli-Palestinian peace efforts, but without causing the collapse of his fractious coalition government, according to Oren. Persuading Saudi Arabia to deal openly with Israel is also on Netanyahu's wish list for Trump, he said, as is U.S. military support to buffer Israel from the fighting in neighboring Syria.
Dealmaker
Trump has said he wants to strike "the ultimate deal" to end the Israeli-Palestinian conflict. If he can "bring home negotiations with the Palestinians without preconditions, if he can bring in some type of regional component -- maybe an announcement date for a regional summit -- that would be what he would call 'huge,' " Oren said.
Part of Oren's role at the prime minister's office is to find ways to breathe life into the Palestinian economy. While Trump and his adviser, Jason Greenblatt, are ultimately seeking a political resolution to the conflict, in the meantime they want Israel to make positive economic gestures toward the Palestinians, Oren said.
Netanyahu's cabinet was set to vote Sunday on a series of measures, including funds to boost efficiency at the Allenby Bridge crossing connecting the West Bank with Jordan, joint industrial zones in the West Bank and a significant increase in the amount of commodities allowed into the Gaza Strip. Bigger projects are also in the works, Oren said, declining to elaborate.
"The Trump administration is focused on materially enhancing the quality of life and the economy for the Palestinians," said Oren. "They don't see economic peace as a substitute for real peace, but they see it as setting an agenda that would make conditions conducive toward peace."
Before it's here, it's on the Bloomberg Terminal.
LEARN MORE