Dutch Coalition Talks Delayed as Negotiations Reach an Impasse
By
Preliminary talks with Dutch political leaders continue Monday

Four parties needed for majority in 150-seat lower house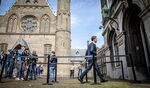 Efforts to form a new Dutch government have been delayed because no combination of political parties has garnered sufficient support to start formal talks, lead negotiator Edith Schippers said.
"We need to give the parties the opportunity to let them think about if they can, and will want to move," Schippers, who is also the health minister and a member of the Liberal party, told reporters in The Hague. Schippers called for "a moment of reflection" and said the parties should move away from their first coalition picks and think about second or third options to form a stable government.

The March 15 parliamentary election left the Dutch political landscape heavily divided with 13 parties taking up seats in the 150-seat lower house, meaning at least four parties are needed to form a coalition that would make a majority in the assembly. Dutch Prime Minister Mark Rutte's Liberals remained the biggest, taking 33 seats, and beating populist and anti-Islam politician Geert Wilders's Freedom Party, which came in second with 20 seats.
A first round of negotiations between Rutte's Liberals, Christian Democrats, the centrist D66 party and the Greens failed on Monday following a disagreement on immigration policy. 
Preliminary talks will continue on Monday, Schippers said, and she hasn't ruled out restarting formal talks as early as next week. The minister, who has said she won't serve in the next administration, is seeking to have a new Dutch government by the summer.
Forming a Dutch coalition government, which is a highly choreographed process, has taken an average 72 days over the years since the Second World War. In 1977, it took 208 days.
— With assistance by Corina Ruhe
Before it's here, it's on the Bloomberg Terminal.
LEARN MORE