Scenes From the Bellagio: Cohen Plays Craps, Chanos Drubs Trump
By , , , and
Fund managers smell money in White House-fueled volatility

Richards sees distressed play; Mobius sees no Trump impact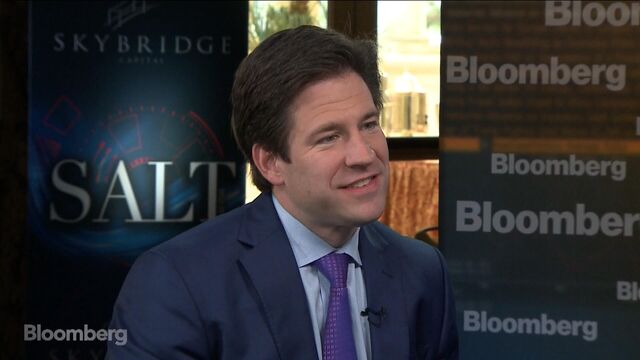 The legions of money managers who met in Las Vegas at the year's flashiest hedge fund event seemed a world apart this week from the meltdown at the White House that's engulfed the nation. Jeffrey Gundlach appeared remotely as a hologram and Steve Cohen played craps wearing a purple glow necklace from a Duran Duran performance.
But for many at the Bellagio hotel, the nonchalance masked an understanding that turmoil begets opportunity. It's time to make some money.
"What is interesting is that it's caused market volatility and that's not altogether bad," CQS U.K.'s Michael Hintze said of the headlines streaming out of Washington this week. "Am I outraged and worried? No."
The SkyBridge Alternatives Conference, known as SALT, was a more sober affair than in past years. The speaker lineup was dominated by credit managers -- the only strategists that have been consistently making money lately, said Ray Nolte, chief investment officer of host SkyBridge Capital, founded by Anthony Scaramucci.
Some attendees confided that they had showed up to gauge the "Scaramucci factor," how the event had changed after its frontman sold SkyBridge to take a job in President Donald Trump's White House. The position never materialized. Gone, they noted, was the excitement of the proximity to the Trump campaign; last year, several attendees had gotten to meet Steven Mnuchin, now Treasury secretary.
If there was a sense of discomfort in the crowd, it came from the fact that the industry, which is trying to prove its worth to investors after years of underperformance, is changing. During a presentation, Alphabet Inc.'s Eric Schmidt was asked repeatedly about the impact of technology on finance and jobs. The audience breathed a palpable sigh of relief when he declared:
"Will there be more of you or less of you in 50 years? More."
And will Scaramucci, now unemployed, be part of the industry again? When talking to billionaire Bill Ackman about his long-ago wager on McDonald's Corp., Scaramucci quipped, "That's going to be my next job actually. I'm going to be flipping burgers."
HEADLINERS
Sam Zell, Equity Group Investments
The billionaire said the "cacophony" of information about Trump should be treated with some skepticism. Revelations don't suggest he is unfit to hold office.
Liquidity in commercial real estate market has declined, making it hard to find buyers.
Amazon, a hedge fund favorite, is a "cult" that isn't rationally priced.
Full Bloomberg TV segment here
Jim Chanos, Kynikos Associates
He's shorting Irish drugmaker Mallinckrodt Plc and pharmacy-benefit manager Express Scripts Holding Co. A "murky alliance" between the companies has led to "performance-enhancing drug prices" that may not be sustainable, Chanos said.
A representative for Mallinckrodt said Chanos's analysis was misleading and inaccurate.
Chanos is betting against some Chinese banks, credit and property, but he wasn't as short as he should have been with U.S. retailers, he said.
Hedge fund fees "are still too high."
The Democratic supporter added: markets are hoping that Vice President Pence replaces Trump as president.
Full story here
Dan Loeb, Third Point
Loeb said his firm is using artificial intelligence to analyze big data and now employs about a half dozen quants. But don't overestimate his firm's mastery of machine learning in comparison to experts in the field, according to people who heard his presentation.
Third Point has been accepting new capital for the first time in years. Assets slipped from $17 billion to $15 billion in 2016, before rising through performance and inflows to the current $16 billion.
Full story here
Bruce Richards, Marathon Asset Management
Amid the White House scandal, he said former Wall Street executives Steven Mnuchin and Gary Cohn are needed more than ever in the administration to provide a steady hand.
He's prepared to take advantage of distress in the U.S. retail sector once high-yield bonds fall further. His firm is also raising cash because high-yield spreads are too tight to invest. 
Full story here
Mark Mobius, Templeton Emerging Markets Group
He said the Trump drama won't impact the developing world because "it's very much localized and the impact on places like China, India, Brazil, etcetera is not going to be very, very big."
On shopping malls and retail in emerging markets: Will continue to serve a purpose as a place of entertainment. "This is a function that isn't going to go away any time soon," he said.
Full story here
Clayton DeGiacinto, Axonic Capital
He said changes to the Dodd Frank act or a repeal of the Volcker rule won't have a big impact on the industry.
"Mainly because investment banks are now very comfortable operating as agent and not as principal."
Michael Hintze, CQS U.K.
He likes floating-rate debt instruments on a longer-term basis.
"The move in rates, whether it's in June, at the next meeting after, will be up. So if that is happening, those loans aren't a bad place to be."
Full story here
Before it's here, it's on the Bloomberg Terminal.
LEARN MORE