Brexit Bulletin: Deal or No Deal
By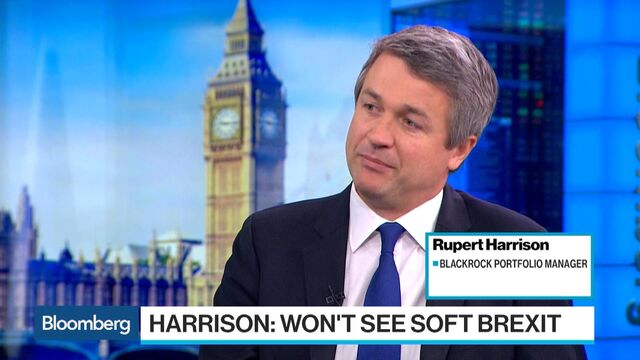 Sign up to receive the Brexit Bulletin in your inbox, and follow @Brexit on Twitter.
Theresa May wrote her red lines for Brexit in black and white.
The Conservative Party's manifesto for government, released on Thursday, outlined a hard Brexit in which the U.K. will leave the European Union's single market and "reduce and control" migration from the bloc. It also revived the warning that "no deal is better than a bad deal."

The prime minister thus called on voters to give her the freedom to walk away from negotiations if they founder and sent a message to the EU not to try to punish Britain. As we wrote earlier this week, including her stance in the manifesto also makes it harder for future Tory lawmakers to rebel against her.
Rupert Harrison, a former Treasury official now at BlackRock, echoed that view.
There is a risk that the "no deal" language unnerves business executives, who will worry it increases the likelihood of a so-called "cliff-edge" scenario in which they face tariffs and uncertainty.
By continuing to talk up the clash with the EU, May will be hoping to dispel any pre-election complacency among her voters. She also hopes to attract pro-Brexit Labour Party supporters and onetime U.K. Independence Party fans. She may have done enough to increase her parliamentary majority to about 100 seats (from 17), according to the Eurasia group.
There were some potential overtures to the EU. Mujtaba Rahman of Eurasia said that by pledging to charge employers more to hire non-EU workers for skilled jobs and making such foreigners pay extra to use the health service, May was hinting at "privileged access" for the EU.
Hours after the manifesto was launched, leaders of minor U.K. political parties used a television debate to criticize May's approach to Brexit. We'll get the verdict of the people on June 8.
Mayism?
The prime minister was unequivocal on Thursday: "There is no Mayism," she said.
Bloomberg reporters have been diving into the detail to see whether that's the case, and what the manifesto means for Britain.
Liechtenstein Warning
The U.K. must not get a better deal with the EU than non-members who went through the effort of obtaining access to the single market, said Adrian Hasler, the prime minister of Liechtenstein.
The country of 38,000, nestled between Austria and Switzerland, is one of three nations in the European Economic Area that aren't EU members. Together with Norway and Iceland, it enjoys easy access to the region's market in exchange for adopting most EU policies but has little say in drafting them.
"Liechtenstein said 'Yes' to the EEA membership 22 years ago to get access to the EU market, and we consciously accepted the duties this entails," Hasler told Bloomberg's Boris Groendahl. "The effort is enormous for such a small country. It's absolutely key for us that this is recognized by the EU and we don't find ourselves suddenly worse off than the U.K., which turned its back on the EU."
Chasing Drugs
There is a fight brewing for the European Medicines Agency, with almost two dozen countries offering perks from free language lessons to scenic cycling routes and childcare to lure the influential watchdog away from London.
Spain, Denmark, and Romania are among those in the hunt and will likely know if they're chosen later this year. European Union authorities are poised to disclose the criteria that the new location must meet in June, writes Bloomberg's James Paton.
On the Markets
The pound passed through $1.30 for the first time since September after a report showed U.K. retail sales rose in April by more than economists expected.
The rally may not endure, with strategist forecasts compiled by Bloomberg pointing of a decline of about 3.5 percent by the end of the year. ING said that the "no deal" statement was negative for sterling.

Brexit Bullets
EU negotiator Michel Barnier worries that financial demands from Berlin and Paris could derail Brexit talks, reports The Times
Steffen Kampeter, director general of Germany's BDA federation of employers, says "rhetorical disarmament" is needed from both sides
Brexit won't mean permanent checkpoints on border, Ireland says
Germany's EON SE says it is committed to staying in Britain
Banks moving from the U.K. will have to conduct actual banking operations to be allowed to operate in the EU, ECB Supervisory Board Chair Daniele Nouy tells Finland's Kauppalehti
The Bundesbank backs EU efforts to monitor clearing business, board member Joachim Wuermeling writes in Boersen-Zeitung.
And Finally…
For one London food vendor, Brexit has gone from bad to wurst.
Having correctly mitigated the effect of the pound's post-Brexit vote crash early on by taking out currency forward contracts, German sausage chef Malte Klemt's predicament then worsened amid rising prices, falling profits and doubts about even staying in the U.K.
Gavin Finch tells the 42-year-old's story as an example of how Brexit's relentless pressures are permeating through the economy even for those who saw it coming.
For more on Brexit follow Bloomberg on Twitter, Facebook and Instagram, and see our full coverage at Bloomberg.com
(
Corrects spelling in the second section.
)
Quotes from this Article
Before it's here, it's on the Bloomberg Terminal.
LEARN MORE