politics
Brazil Prosecutor Says Temer Tried to Obstruct Carwash Probe
By and
Charges made public in court documents released on Friday

Supreme Court had previously announced authorization of probe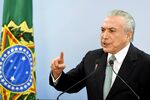 Brazil's Prosecutor-General Rodrigo Janot said President Michel Temer helped obstruct the ongoing Carwash corruption probe and may have engaged in passive corruption, according to court documents made available.
Part of the evidence underlying Janot's request made in April to probe Temer leaked on Wednesday. On that day, O Globo newspaper reported of a secret recording allegedly revealing that Temer approved hush money for Eduardo Cunha, the jailed former house speaker and mastermind behind last year's impeachment of former President Dilma Rousseff.
Supreme Court Judge Edson Fachin authorized Janot's request to investigate Temer on May 3, but the documents were not made public until Friday. "One of the crimes theoretically committed is passive corruption, which as is known, implies precisely the use of one's office, employment or public function," the public prosecutors said in the request, according to the document. The Supreme Court press office said on Friday it received a request from a lawyer to shelve the Temer probe.
The presidency's press office denied the accusations, saying there was no interference in Carwash, according an e-mailed statement.
In the court documents, prosecutors refer to a recording between the president and Joesley Batista, one of the owners of JBS, the world's largest meat producer. According to the transcript, Batista tells Temer that he is trying to maintain a good relationship with Cunha after his imprisonment. Temer replied, "you've got to keep that up, right?"
The testimony was submitted by Batista as part of a plea-bargain deal in the Carwash probe.
Late on Thursday Temer told G1 news site that the matter had been blown out of proportion and that the crisis would be over sooner than people expect. After a sharp sell-off of Brazilian assets on Thursday, the real recovered some of its losses on Friday, closing 3.6 percent higher on the day as Brazil's main stock index gained 1.7 percent.
JBS Testimony
In the plea bargain testimony Janot based his request on, Batista said that he had paid out around 400 million reais ($122.8 million) in bribes over the past 15 years.
The JBS CEO told prosecutors that he made payments totaling 4.7 million reais to Temer from 2010 to 2017, according to Folha de S. Paulo. Temer's defense had previously said all donations to him or his party were legal.
In a video of his plea bargain testimony, Batista said Temer offered to personally intercede on JBS's behalf to influence Finance Minister Henrique Meirelles and BNDES President Maria Silvia Bastos. Batista also testified that Temer said he had people at anti-trust regulator Cade with whom "it's possible to have frank conversation," and referred him to a lower house lawmaker to address concerns.
Batista also said that he had paid former presidents Rousseff and Luiz Inacio Lula da Silva a combined total of $150 million, which they kept in foreign bank accounts, local media reported.
A statement issued by Rousseff's press office vehemently denied the claims. "Dilma Rousseff never had foreign bank accounts," it stated.
Batista's remarks regarding Lula that were published in local media were based on supposed dialogues with third parties that were not proven, Lula's lawyers said in an e-mail. Lula's innocence has been confirmed in deposition from more than 100 witnesses, according to the statement.
— With assistance by Mario Sergio Lima, and Giulia Camillo
Before it's here, it's on the Bloomberg Terminal.
LEARN MORE