Balance of Power: Brazil's Earthquake
By , , and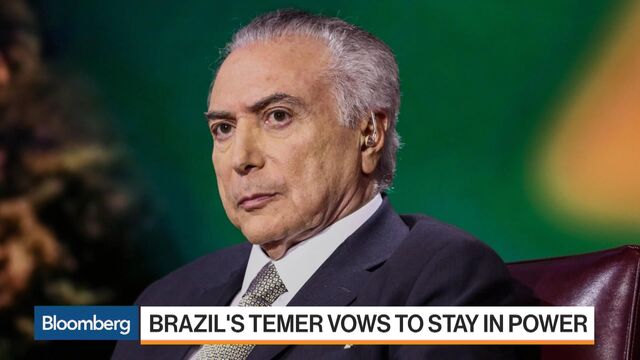 The earth is crumbling beneath Michel Temer's feet.
Brazilians reacted with disbelief yesterday after a newspaper reported that their president was caught on tape approving hush money. Temer was allegedly trying to keep an imprisoned politician who masterminded last year's impeachment of Dilma Rousseff from spilling more details on a corruption scandal that's rocked the country for three years.
The stock market plunged 9 percent. As night fell over Sao Paulo, residents could be heard shouting "Out with Temer" as they banged pots and pans. The scandal even had some reminiscing about the days of military dictatorship, which ended in 1985.
Temer says he won't resign and did nothing wrong. The question is whether he'll change his mind or whether Brazil is in for another long period of political chaos.
The affair is a reminder of how quickly power can drain from an unpopular president. Some allies deserted Temer almost immediately, while others threatened to resign if the allegations are proven.
For investors, it's also a reminder of the perils of doing business in Brazil. While major Washington scandals come only once in a generation, corruption and political instability always lurk just below the surface in Latin America's economic heavyweight.
Sign up to receive the Balance of Power newsletter in your inbox, and follow Bloomberg Politics on Twitter and Facebook for more.

Global Headlines
Iran election | Iranians vote today in the first round of the presidential election, with incumbent Hassan Rouhani and conservative cleric Ebrahim Raisi leading the polls. But as Bloomberg's Marc Champion explains, the ballot is about more than who will next lead the government. It may also help decide who will be the country's next Supreme Leader, with a good showing for Raisi sure to boost his chances. The final result may not emerge until Sunday. There will be a second round if no one gets 50 percent.
Trump tries to leave his woes behind | President Donald Trump yesterday described the investigations swirling around him as a "witch hunt" but insisted his team didn't collude with Russia. He leaves today for an eight-day trip to Europe and the Middle East. But as Bloomberg's Margaret Talev and Jennifer Jacobs explain, Trump's domestic woes are likely to intrude, and his critics are sure to pounce on any gaffe as more evidence he's not up to the job.
Trump's Saudi arms deals | Lockheed Martin Corp. clinched a $6 billion deal to sell Saudi Arabia four warships on the eve of Trump's visit to the kingdom, according to Bloomberg's Tony Capaccio and Talev in Washington. As the president looks to revive a relationship strained under Barack Obama, the Saudis are also set to order an upgrade on their command-and-control systems, 60 Black Hawk helicopters and a state-of-the-art anti-missile system.
Trump says new FBI director imminent | Trump has hinted strongly he hopes to name a new FBI director today before embarking on his overseas trip. Former Senator Joe Lieberman is the leading contender, but Democrats have already indicated opposition to him. Lieberman was a Democratic vice presidential candidate in 2000 before becoming an independent and then backing Republican John McCain for the presidency in 2008. 
May's reality check | In 2015, David Cameron promised voters the good life. Two years later, Theresa May is offering the hard reality of Brexit. Her election manifesto, published yesterday, dropped her predecessor's pledge to keep taxes down and told wealthier pensioners they will have to pay for their own care. Still, she is offering some goodies: higher tax thresholds for workers, a higher minimum wage and a cap on utility bills. Click here for a guide to the parties' policies.
Obamacare do-over for House? | Turns out the Rose Garden victory lap that Trump took following House passage of an Obamacare repeal bill might have been a tad premature. Bloomberg's Billy House has an exclusive on a procedural hiccup that could force Speaker Paul Ryan -- who barely eked out a victory earlier this month after an embarrassing false start -- to hold another vote on the bill before he can send it to the Senate, where its prospects remain dim.
India's tax revolution | Prime Minister Narendra Modi's government won agreement late yesterday on key details to implement a landmark reform that will dramatically reshape India's $2 trillion economy. The new goods and services tax will subsume more than a dozen separate levies, could spur the world's fastest-growing major economy and boost Modi's political fortunes.
Erdogan's brawl | If the images of Turkish security personnel beating up protesters in Washington wasn't bad enough, a new video shows President Recep Tayyip Erdogan looking on impassively after getting out of his Mercedes at the ambassador's residence. Anger is mounting in some quarters, with Senator McCain saying the ambassador should be kicked out. Back in Turkey, where authoritarianism is growing, there's been little coverage of the incident.
And finally... The U.S. accused two Chinese fighter jets of "unprofessional" maneuvers after they intercepted an American surveillance plane over the East China Sea. CNN reported that one pilot flew inverted over the U.S. jet, emulating the attempt by Tom Cruise's character, Maverick, to improve "foreign relations" in the movie "Top Gun." No word on whether the two sides exchanged any hand signals.

--With assistance from Kathleen Hunter.
Before it's here, it's on the Bloomberg Terminal.
LEARN MORE