Abe's Policies Failing Women, Japan Opposition Chief Says
By and
Renho looks to dent Abe's chances in elections due by end-2018

She sees little enthusiasm for revising pacifist constitution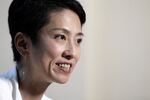 The most prominent leader of Japan's beleaguered opposition is seeking to dent Prime Minister Shinzo Abe's popularity, blasting his failure to uplift women and rush to change the country's pacifist constitution.
"They should be ashamed to use the word 'Womenomics'," Democratic Party leader Renho, the 49-year-old mother of twins, said in an interview in Tokyo late Thursday when asked about the term Abe often uses to describe his efforts. "It's an embarrassment."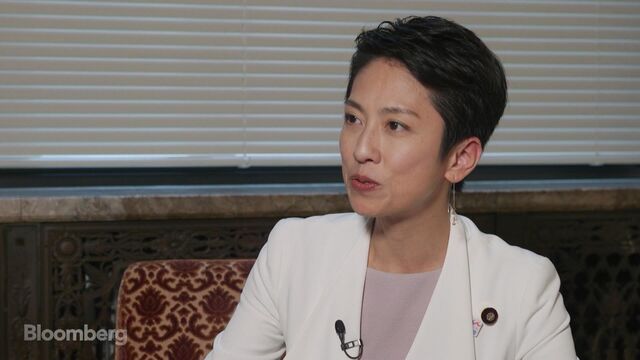 While Renho drew plaudits for becoming the first female leader of a major Japanese party in more than a decade last year, her approach has so far failed to resonate with voters. Abe remains on course to win an election due by the end of next year that could open the way for him to become the country's longest-serving premier.
Japan's opposition is now weaker than at any time since World War II, Gerald Curtis, emeritus professor of political science at Columbia University, said in an essay last month. A poll by public broadcaster NHK put support for Renho's party at 7.3 percent this month, compared with 37.5 percent for Abe's Liberal Democratic Party.
Abe had vowed to eliminate waiting lists for childcare in a bid to draw more women into the workforce to make up for Japan's shrinking population. He also sought to have women take 30 percent of management positions in all fields by 2020.
On both goals he's falling well short: Japan was 111th in the World Economic Forum's Gender Gap ranking for 2016, down 10 places on the previous year.
'Sad Choices'
"About 80 percent of those who take childcare leave are women, and if they're forced to wait for daycare, that means unemployment," Renho said. "You either get demoted or you give up on work. What's womenomics about if women are being forced to make such sad choices?"
There were more than 47,700 children on waiting lists for daycare as of October last year, according to the health ministry. That's up about 5 percent from a year earlier as expanding supply fails to keep up with demand, especially in Tokyo.
Speaking at the party's offices in the parliament building, Renho also criticized a new drive launched by Abe this month to achieve his long-held ambition of changing the pacifist constitution that has defined Japan's postwar security policy. He is seeking to enshrine the legitimacy of the country's Self-Defense Forces by adding to Article 9, which renounces the right to war, by 2020.
"I don't hear any growing calls for change to the exclusively defensive posture of Article 9," Renho said. She added that Abe's refusal to explain his thinking in parliament meant his proposal "doesn't even qualify as an idea."
Chief Cabinet Secretary Yoshihide Suga said May 8 that Abe had made the proposal as party leader, rather than prime minister, and hoped to spark debate among other parties.
Voters Divided
Abe and his allies have the two-thirds parliamentary majority required to propose a change to the constitution, which would be the first in the document's 70-year history. Passage by lawmakers must be followed by a national referendum. Surveys show voters are divided on whether to revise Article 9, which most respondents say has served the country well, even amid rising tensions over North Korea.
Abe's plan is to leave intact the current wording, which bans the maintenance of land, sea or air forces, while adding a paragraph making clear the constitutionality of the Self-Defense Forces. Japan's military boasts almost 250,000 troops.
"I don't understand his thinking," Renho, who goes by one name, said of Abe. "The Self-Defense Forces are constitutional -- successive Liberal Democratic Party cabinets have said so."
A referendum could even further complicate the status of the SDF, she added.
"If the public were to reject such a proposal in a referendum, they would be rejecting the idea of making the SDF clearly constitutional," she said. "What would the prime minister do then?"
Before it's here, it's on the Bloomberg Terminal.
LEARN MORE