With Mueller at Helm, FBI's Russia Probe Gains Credibility
By
White House told of decision only after it was made: official

Mueller given broad power to issue subpoenas, call witnesses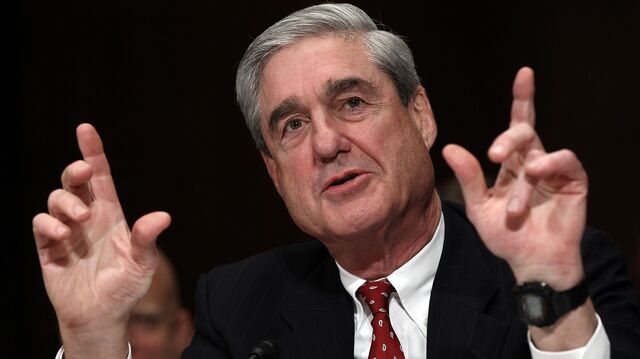 With one bold move, U.S. Deputy Attorney General Rod Rosenstein managed to restore the credibility of a federal probe into Russia's role in the 2016 election, calm political furor over the firing of the FBI director and salvage his own increasingly bruised reputation.
The move to make former FBI Director Robert Mueller special counsel overseeing the Russia inquiry drew bipartisan praise and eased days of building political tension in Washington. It came as Rosenstein was preparing to brief senators Thursday about the investigation -- and about his role in President Donald Trump's abrupt dismissal of James Comey as FBI chief last week.

Trump, whose administration was already reeling from allegations he sought a loyalty pledge from Comey and asked him to drop an investigation into former National Security Adviser Michael Flynn, remained defiant Thursday. "This is the single greatest witch hunt of a politician in American history!" he said on Twitter. There was never a "special councel" appointed to investigate what he called "all of the illegal acts that took place in the Clinton campaign & Obama Administration," he said.
Still, the appointment of Mueller provided welcome short-term relief for Republicans seeking less drama from the White House. And it granted Democrats a key demand for the inquiry to be managed by someone untainted by White House ties.
"Mueller has unimpeachable integrity," said Matthew Axelrod, a partner at Linklaters LLP who was a top aide to ex-Deputy Attorney General Sally Yates, an Obama administration holdover fired by Trump in January. "He'll do the job thoroughly, doggedly and professionally, and that's what you want."
Read more: Mueller Showed Independence in Joining Comey's Hospital Standoff
White House Call
The decision reasserted the traditional independence of the Federal Bureau of Investigation, which was tested by Comey's dismissal. It also further distances the probe from Attorney General Jeff Sessions, a Trump confidant who recused himself from any role in the inquiry after it was reported that he failed to disclose conversations with Russia's ambassador to the U.S.
Another beneficiary of the move could be Rosenstein, who was criticized for doing the White House's bidding after a memo he wrote criticizing Comey's handling of the Hillary Clinton email probe last year emerged as a justification for the FBI chief's dismissal.
In a signal that he alone was in charge, the deputy attorney general notified the White House of his appointment only after he signed the order designating Mueller as special counsel. His subsequent phone call to White House counsel Donald McGahn came 25 minutes before the order was disclosed to reporters, according to an administration official with knowledge of the situation.
"What I have determined is that based upon the unique circumstances, the public interest requires me to place this investigation under the authority of a person who exercises a degree of independence from the normal chain of command," Rosenstein wrote in a statement accompanying his order.
For more politics coverage, subscribe to the Bloomberg Politics Balance of Power newsletter
'Fake News'
Even as it puts the Russia probe Trump has dismissed as "fake news" in the hands of an experienced prosecutor unlikely to bow to political pressure, the appointment of Mueller was greeted with relief at the White House, the official said.
But administration hopes for a quick resolution may be misplaced. As special counsel, Mueller can issue subpoenas, present evidence to a grand jury and bring charges -- all the powers of a federal prosecutor. His authority extends broadly to include "any links and/or coordination between the Russian government and individuals associated with the campaign of President Donald Trump."
Read more: Unwinding the Twists, Turns in Trump-Russia Probe
That likely includes the circumstances around the firing of Comey, an ally of Mueller dating back to their time serving in the George W. Bush administration. The two men were key players in a dramatic showdown in 2004 at the hospital bedside of then-Attorney General John Ashcroft, who had handed his authority to his deputy, Comey, while he was in intensive care.
After learning that then-White House counsel Alberto Gonzales and chief of staff Andy Card planned to seek the ailing Ashcroft's signature on a measure continuing a controversial and classified warrantless eavesdropping program, Comey raced to the hospital to stop them. En route, he called Mueller to ask for his backing. FBI agents on site were ordered "not to allow me to be removed from the room under any circumstance," Comey later testified.
The gamble worked and Ashcroft sat up in bed long enough to reject the proposal from the White House aides and remind them that Comey was in charge.
Oval Office Meeting
Shortly after McGahn took the call from Rosenstein, senior White House officials gathered in the Oval Office to prepare the president's response. Those present included White House chief of staff Reince Priebus, strategist Stephen Bannon, senior adviser and Trump son-in-law Jared Kushner, and spokesman Sean Spicer. Trump dictated his thoughts and a little after 7 p.m. consensus was reached.
"As I have stated many times, a thorough investigation will confirm what we already know -- there was no collusion between my campaign and any foreign entity," Trump said in a brief statement issued to reporters. "I look forward to this matter concluding quickly."
Now the administration, which has been interviewing candidates to replace Comey, can let Mueller handle questions about the probe as Trump prepares for his first overseas trip and looks ahead to his legislative priorities.
The Mueller appointment hasn't brought the calm to global markets. The Stoxx Europe 600 Index declined 1 percent, heading for the lowest since May 1, as of 7:15 a.m. in New York. Futures on the S&P 500 fell 0.4 percent after the benchmark gauge slumped 1.8 percent on Wednesday, its worst day since Sept. 9.
One reason cited for the extended declines was a Reuters report early Thursday that Flynn and other advisers to the Trump campaign were in contact with Russian officials and others with Kremlin ties in at least 18 undisclosed calls and emails during the last seven months of the presidential contest.
Washington Legend
Lawmakers on both sides of the political aisle expressed relief and praise for the choice of Mueller.
"Mueller is a great selection," Republican Representative Jason Chaffetz, chairman of the House Oversight Committee, said on Twitter after the decision was announced. "Impeccable credentials. Should be widely accepted."
Representative Elijah Cummings, the top Democrat on the committee, said, "I think that's probably a good choice. I've been impressed by him." Senator Dianne Feinstein, ranking Democrat on the Judiciary Committee, called the selection "excellent."
The appointment of Mueller, 72, came after some former Justice Department officials said Rosenstein initially misjudged the political hazards of Washington. He inherited oversight of the Russia probe when he was confirmed by the Senate last month, after Sessions had already recused himself.
'Justice and Politics'
According to one person familiar with his thinking, Rosenstein didn't anticipate that the White House would try to blame him for Comey's firing and he took it as a slap in the face when his memo criticizing the former FBI director was cited by Trump officials.
"Perhaps the most critical position in the department is the deputy attorney general because it's at the intersection of justice and politics," said John Arterberry, who spent three decades at the Justice Department. "Maybe this is just an example of how tough that position is, what it demands, and how tough it is to meet those demands."
If that version of events is true, Rosenstein's response shows him to be a fast learner.
"This is something that had to happen," said Dan Webb, a partner at Winston & Strawn in Chicago who worked as a prosecutor in the Iran-Contra investigation. "He gets an A-plus in integrity and judgment. The fact that he acted this quickly and saw the crisis that was looming is a big plus for the independence of the Department of Justice."
— With assistance by Jennifer Jacobs, David Voreacos, Andrew M Harris, and David McLaughlin
Before it's here, it's on the Bloomberg Terminal.
LEARN MORE