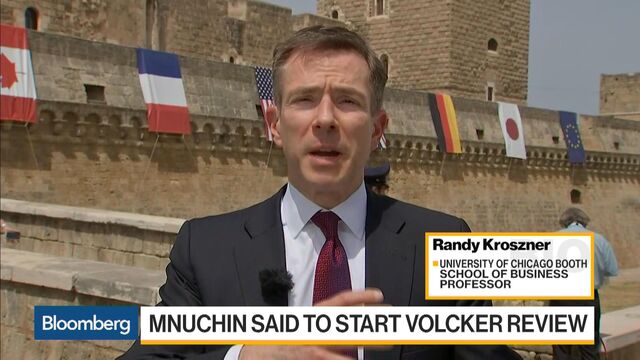 U.S. banks have been barred from speculating with their own money, a practice known as proprietary trading, since the Volcker Rule took effect in 2015. Named after Paul Volcker, the former Federal Reserve chairman, the rule is meant to stop banks with taxpayer-protected deposits from taking on big risks that can lead to large losses and possibly further bailouts. Regulators have tried to define the kinds of trades that are banned, but banks say the agencies have issued confusing guidance and overstepped their bounds. Now, Treasury Secretary Steven Mnuchin and financial regulators are working on rewriting the Volcker Rule. Will banks get the relief they are seeking?
1. What is Mnuchin doing?
On July 28, the key regulators agreed at a closed-door meeting of the Financial Stability Oversight Council -- a panel of agency heads set up after the 2008 crisis -- to start reworking the rule, Bloomberg reported. Mnuchin, chairman of that group, said the regulators had "many good ideas on how the Volcker Rule could be improved," and this effort could make changes without waiting for Congress to amend the underlying statute, the 2010 Dodd-Frank Act. Though Mnuchin has been critical of the rule, he's also said "proprietary trading does not belong" in banks with a government backstop.
2. What about President Trump?
Several times he has said too much regulation is inhibiting banks from lending, which is keeping the U.S. from growing as fast as it could. On Feb. 3, he signed an order directing U.S. agencies to review their financial-company oversight. Though the president has also said he was considering whether to break up the biggest banks with a new version of the 1933 Glass-Steagall Act that once separated commercial and investment banking, Mnuchin threw cold water on that. He told the Senate Banking Committee that the administration believes breaking up the megabanks would be a "huge mistake," despite the fact that walling off bank functions is part of the Republican Party's platform.
3. What does Volcker actually do?
While it stops outright proprietary trading, banks still can buy and sell securities on customers' behalf. Finance executives, however, say the rule is vague, making it difficult to know what's allowed and what might trigger a hefty fine. For example, banks can still trade when they're acting as middlemen to make markets for clients, as long as they stay on the right side of the border between speculation and customer service. So they can help a client hedge a currency position, but the bank can only hedge its own risks from such market-making activity under tight constraints. The rule also severely limits banks' investments in private-equity and hedge funds.
4. Why does Wall Street despise it?
Bankers say it stifles what is the essence of Wall Street -- trading stocks, bonds and other instruments. While most banks have long since closed their prop-trading desks and otherwise adjusted trading operations, they still have to pay large compliance staffs to help traders avoid violating the rules.
5. Has any bank run afoul of the rule?
Yes, Deutsche Bank AG in April was the first to be slammed by regulators for not paying enough attention to compliance. The Federal Reserve fined the lender $20 million for lax oversight of the Volcker restrictions, though it didn't accuse the bank of engaging in banned trading.
6. Would this make the financial system less safe?
Those who favor the rule say it would. They also say there is no proof Volcker's restrictions have been a problem for the financial system. Marcus Stanley, policy director at Americans for Financial Reform, a pro-regulation group, said he's dubious that Volcker is handcuffing lenders. "You're talking about banks that are making tens of billions a year on trading activity," said Stanley, whose group supports aggressive oversight of Wall Street. "It doesn't seem to me that they've exited the markets."
7. Is there a better way?
Some economists, regulators and lawmakers say higher levels of loss-absorbing equity capital -- money that comes from shareholders or is retained from profits -- is the best way to protect taxpayers from future bailouts. House Republicans have passed a bill that would erase the Volcker Rule. The legislation, by House Financial Services Committee Chairman Jeb Hensarling, a Texas Republican, would let banks choose to have higher equity capital in exchange for less regulatory interference.
8. Will the result be new rules?
A wholesale rewriting of the rule would probably take years, as multiple regulators would have to agree on any changes after seeking public comment. While Congress could try to repeal Volcker -- the House passed Hensarling's bill in June -- Republicans in the Senate may find it hard to get the 60 votes needed for passage there. So the fastest way to relieve the banks is through new guidance by regulators of what activities are barred. A better view of the cliff's edge lets banks move closer to it.
9. Who's revising the rule?
The agencies that wrote the rule in the first place: the Federal Reserve, Securities and Exchange Commission, Federal Deposit Insurance Corp., Commodity Futures Trading Commission and the Office of the Comptroller of the Currency.
Reference Shelf

— With assistance by Yalman Onaran
Before it's here, it's on the Bloomberg Terminal.
LEARN MORE