markets
What Investors Are Saying About the Political Turmoil in Brazil
By
Selloff sweeps Brazil as investors fret about reform push

Some traders still see value in Brazil and will seek bargains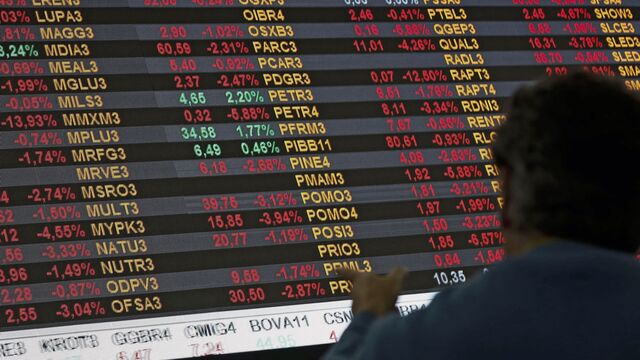 Political chaos is enveloping Brazil following reports that President Michel Temer approved illegal payments to a disgraced lawmaker, with the opposition and even some allies calling on him to resign. Brazilian assets from stocks to bonds to the currency plunged.
Investors say it's too early to know how the events will shake out, and what exactly it all means for an ambitious government agenda that sought to shore up Brazil's fiscal footing. But the early market reaction shows plenty of pessimism after world-beating rallies for the country's stocks and currency over the past 12 months.
Here's a roundup of what investors and analysts are saying:
NN Investment Partners
Marcelo Assalin, who manages $8.5 billion as head of emerging-market debt, said the selloff is being exacerbated by the fact that so many big investors were overweight Brazilian assets. He said the outlook for markets are dependent on how fast an institutional solution takes shape.
"The selloff will be indiscriminate at first and then the time will come to search for good investing opportunities," he said. "It will all depend on what will happen in the next couple days. While it is still too early to have a clear idea, I believe that the majority of the Congress will not change the reforms path. This is the time to be calm and wait for more clarity. Brazilian assets offer good value to investors who have a longer term approach."
For a Live Blog on the crisis, click here.
Skandinaviska Enskilda Banken
Per Hammarlund, the bank's chief emerging-market strategist, says things "could get very ugly." If Temer's presidency is over, the best option for markets would be having lawmakers quickly appoint a new leader. Fresh elections, on the other hand, could invite chaos and send the benchmark stock index down as much as 50 percent. The real could fall to 3.75 per dollar under the worst-case scenario, he said.
"There is a lot fear."
Legal & General Investments Management Ltd.
Simon Quijano-Evans, an emerging-market strategist, said all the optimism generated over the past year in Brazil has been crushed. Without much-needed fiscal changes, particularly to the government pension program, investors will lose confidence and the central bank will have a hard time supporting the country.
"Politicians have to decide what they want for the future of the country, what avenue to pursue," he said. "Early elections wouldn't help calm sentiment - only clearcut reforms will help."
RVX Asset Management
Ray Zucaro, the chief investment officer, said he going to be hunting for bargains.
"I am trying to do my homework to see what is cheap," he said.
Schroder Investment Management Ltd.
Craig Botham, an emerging-market economist, sees wide ranging consequences in store for Brazil, with pension and labor bills that investors had cheered now under threat.
"The consequences for Brazil could be wide-ranging," he said.
Torino Capital
Chief Executive Officer Jorge Piedrahita expects spreads on the country's sovereign bonds to widen 1 percentage point, and for even worse damage to corporate bonds. The fallout won't be contained to Brazil, either: He predicts the pain spreading to Argentina and other emerging markets.
NCH Capital
James Gulbrandsen, a Rio de Janeiro-based portfolio manager, said the crisis could pave the way for a political outsider like Sao Paulo Mayor Joao Doria to be elected president in coming months. It's much less likely that former President Luiz Inancio Lula da Silva will return to power, which some investors see as a worst-case scenario, he said.
"Markets will overreact, but the reality is that Brazil is rooting out the corruption that has plagued it for centuries," he said. "Our view is that this significantly increases the likelihood of new elections within the coming months and that a political outsider such as Joao Doria will be the next president."
— With assistance by Peter Millard, and Aline Oyamada
Before it's here, it's on the Bloomberg Terminal.
LEARN MORE