Wal-Mart's Online Sales Soar as Retail Giant Pursues Amazon
By
E-commerce business posts its fastest growth in five years

Earnings, same-store sales also outpace analysts' estimates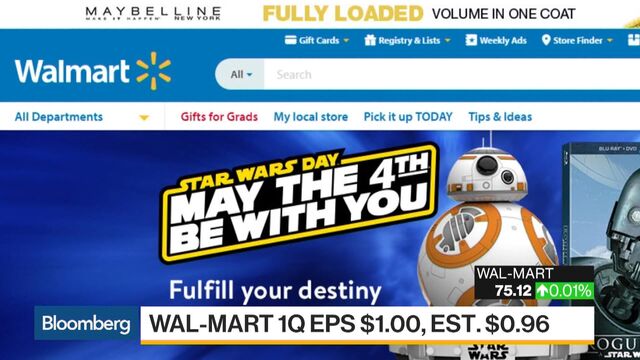 Wal-Mart Stores Inc. gained momentum in its fight against Amazon.com Inc., with its online sales growing at their fastest clip in at least five years.
The e-commerce business saw gross merchandise volume -- a measure of all the goods it sells online -- soar 69 percent in the first quarter, Wal-Mart said on Thursday. Total revenue climbed 1.4 percent to $117.5 billion.
The results signal that Wal-Mart is getting a payoff from an ambitious online expansion, which included last year's $3.3 billion acquisition of Jet.com. The Bentonville, Arkansas-based company now boasts 50 million items on its website, up from 35 million the previous quarter, and its offer of free two-day shipping for orders of $35 or more has boosted site traffic and spending, executives said. 
"All of a sudden, Wal-Mart is the primary competitor to Amazon, as opposed to a fragmented cluster of people," said Greg Portell, a partner at consulting firm A.T. Kearney.
The shares gained as much as 3.2 percent to $77.50, marking the biggest intraday increase in almost three months. The stock had been up 8.7 percent this year through Wednesday's close.

Growth at Wal-Mart's brick-and-mortar stores was more measured, though it still outpaced estimates. U.S. same-store sales rose 1.4 percent, narrowly beating analysts' expectations, fueled by a 1.5 percent increase in customer traffic. That marked the 11th-consecutive period of positive sales in the company's home market.
The numbers offer a stark contrast with those of rival Target Corp., which reported results Wednesday and has suffered negative same-store sales for four straight quarters.
Wal-Mart earnings amounted to $1 a share in the period. Analysts had estimated 96 cents.
'Feel Good'
The company expects profit of $1 to $1.08 in the second quarter, compared with a projection of $1.07. U.S. same-store sales will grow 1.5 percent to 2 percent, Wal-Mart said, higher than the 1.2 percent analysts had expected prior to the results.
"We feel good about the momentum across the business," Chief Financial Officer Brett Biggs said on a call with reporters.
Chief Executive Officer Doug McMillon has used the Jet acquisition as a catalyst for online growth. After buying that business in September, he put co-founder Marc Lore in charge of U.S. e-commerce. Wal-Mart followed up with some smaller deals, snapping up outdoor retailer Moosejaw and women's apparel seller ModCloth earlier this year.
"Customers are placing more repeat orders and spending more," Lore said on the call. "The companies we have bought have helped to build our assortment and give us expertise in categories that are hard to crack."
Lore said the company was seeing "nice growth" from its latest offer of discounts on some web orders that are picked up in store. It now offers curbside pickup of online grocery in 670 locations.
New Customers
Wal-Mart has found that offering online groceries brings in new customers, and those shoppers are typically young families "who don't want to drag their kids around a Wal-Mart," according to Jennifer Bartashus, an analyst at Bloomberg Intelligence. About 42 percent of Wal-Mart's regular monthly shoppers are members of Amazon's Prime program, according to research firm InfoScout.
Wal-Mart also has held talks to buy men's clothing startup Bonobos Inc. for about $300 million, a person familiar with the matter said last month. Lore declined to comment on the deal Thursday.
The acquisitions have helped burnish Wal-Mart's online image, though the majority of e-commerce growth came from its longstanding Walmart.com site last quarter. Its digital growth rate was nearly triple that of Target. Amazon's sales of so-called retail products climbed 16 percent last quarter.
Wal-Mart's online expansion hasn't come cheap, though. Its expenses grew faster than sales in the first quarter, Biggs said in an interview. Wal-Mart has pledged to reverse that trend over the course of the year. Gross margins in the U.S. business were unchanged, missing the estimate of some analysts who had expected a slight uptick.
"We're still not where we want to be," Biggs said.
Fresh Food
Beyond the web, Wal-Mart is striving to improve its brick-and-mortar experience. Cleaner aisles, faster checkouts and fewer missing items have been the focus for Wal-Mart's U.S. stores chief Greg Foran. The New Zealander also is beefing up the retailer's fresh food, store-brand and services businesses to provide a buffer against both Amazon and German discounter Aldi.
Comparable-store sales of food were the highest in more than three years, Wal-Mart said, as deflationary pressure subsided. Grocery retailers like Wal-Mart and Kroger Co. have been grappling with a historic bout of food deflation, prompting price wars in categories like meat and dairy. And next month they'll have to cope with more competition as Germany's Lidl expands tothe East Coast.
Foran, who joined Wal-Mart in 2014, has also replaced the clunky handheld bar-code scanners used by employees since 1984, opened training facilities for 200,000 workers, and freed store managers from the backroom to spend more time on the sales floor.
"With all the hullabaloo online, it's easy to forget that in-store execution still means the world to them," Bartashus said.
Before it's here, it's on the Bloomberg Terminal.
LEARN MORE