The Volatility Buyer Known as '50 Cent' Just Had a Huge Payday
By
Fiddy's P&L showed gains of about $27 million, MRA estimates

Volatility index rose by most since Sept. 9 on Wednesday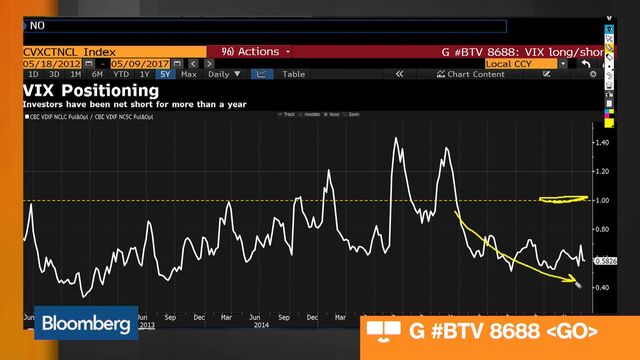 He's been patiently waiting for the VIX to explode, and now that it has, his calls will get rolled on.
The mysterious volatility buyer or buyers dubbed "50 Cent" because of their propensity for buying large blocks of VIX call options priced at roughly a half-dollar each, had their best day of 2017 on Wednesday. The CBOE Volatility Index, commonly known as the VIX or fear index, surged by nearly five points on Wednesday to 15.59, its biggest jump since Sept. 9.
Pravit Chintawongvanich, head derivatives strategist at Macro Risk Advisors, estimates that Fiddy's profit and loss statement showed a gain of roughly $27 million for the session. The options serve as a hedge against a stock selloff.

The Financial Times has reported that the persistent buyer or buyers of relatively inexpensive VIX call options is U.K.-based investment firm Ruffer Investment Co.
However, it's relatively unlikely that this investor or investors, whoever they may be, will book these gains.
"Depending on how 50 Cent has structured the hedge, may never actually monetize the position, simply continuing to roll the VIX calls and enjoying the mark-to-market gains during times of turbulence," Chintawongvanich wrote in a note to clients Thursday. "However, if they do intend to monetize at some point, we think they require a much larger move in VIX futures than we have seen so far (we would think at least until June future trade 20+)."
Most of the position is in June VIX futures and isn't in the money yet, the strategist noted.

That said, if 50 Cent was able monetize yesterday's impressive performance, it's pretty clear that someone's going to be partying like it's their birthday.
Before it's here, it's on the Bloomberg Terminal.
LEARN MORE