U.K. Minor Parties Slam 'Extreme' Brexit in Debate May Avoided
By
Lib Dem, SNP, Green, Plaid Cymru leaders face off against UKIP

May, Labour's Corbyn, declined to take part in ITV debate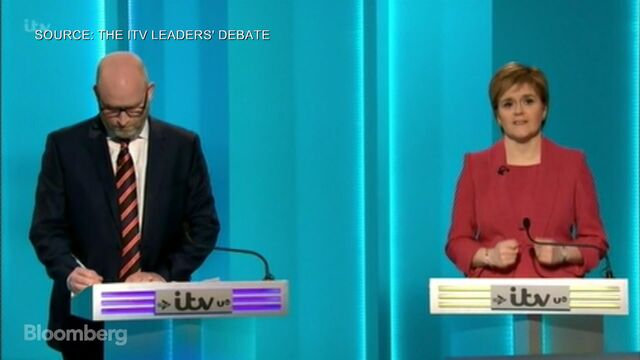 Four leaders of minor U.K. political parties criticized Theresa May's approach to Brexit in a television debate ahead of next month's general election that the prime minister herself declined to take part in.
As well as leaving the EU, May has pledged to leave the single market and customs union, while prioritizing curbs on immigration and freeing Britain from the jurisdiction of European courts. That stance is opposed by the Scottish National Party, the Welsh nationalists Plaid Cymru, the Greens and the Liberal Democrats, which fear the economic damage it could entail.
"Theresa May is not just pursuing Brexit, she is pursuing a hard, extreme Brexit," SNP leader Nicola Sturgeon, the first minister in Scotland's semi-autonomous government, said in the ITV debate late on Thursday. "Even today when she published her manifesto, she threatened again to walk away with no deal. That would be an economic catastrophe.''
May called the surprise election citing the need to strengthen her hand in the Brexit negotiations, which she said was being undermined by the opposition. On Thursday, she published the Conservative Party's campaign platform, spelling out the approach to the divorce that she wants voters to endorse.
"She is not enacting the will of the people; she has chosen to interpret it in an extreme way," Liberal Democrat Party Leader Tim Farron said during the debate in Salford, northwest England. "The Brexit negotiations between Brussels and London over these next few months will lead to outcomes that none of us can predict for the time being." 
He reiterated his party's call for a referendum on the final Brexit deal, telling voters that "if you want to reject that deal, you must have the right to remain in the European Union.''
'Blank Check'
Jeremy Corbyn, the leader of the main opposition Labour Party, also declined to attend the debate, citing May's absence. He didn't escape the wrath of the four pro-EU parties, with their leaders blaming him for supporting May's push for a hard Brexit by voting through her parliamentary mandate to begin divorce negotiations.
"Not only did Labour give the Tories a blank check for a hard Brexit, they basically gave them a lift to the bank and helped them cash it in,'' said the Green Party's Caroline Lucas.
Read more on the main parties' election programs.
Plaid Cymru leader Leanne Wood fretted about the future of manufacturing in Wales, saying Airbus SE, which employs 6,500 people at a wing assembly plant in north Wales, is unlikely to stay if tariffs are imposed on exports to the EU and imports from it. She also warned about the risks posed by wider trade deals the government might negotiate.
"We're at risk of trade deals which would see our health service privatized, our agriculture sector decimated by cheap foreign imports and Wales drained of any power," Wood said. Se said she'd fight to "make sure that the Tories don't get away with an extreme Brexit that would cause serious harm for many people in many of our communities right throughout the U.K."
It was left to the fifth participant in the debate, the U.K. Independence Party's Paul Nuttall, to fight a lonely battle in favor of Brexit. He disapproved of May's approach for other reasons: he thought she would "backslide."
"I think she'll sell out our fisheries," he said. "There'll be some sort of dodgy deal over freedom of movement as well and I think she'll capitulate and we'll pay a divorce bill as well.''
He then erred by calling the Plaid Cymru leader "Natalie." Not just once, but twice.
"I'm not Natalie, I'm Leanne," she said disapprovingly.
Before it's here, it's on the Bloomberg Terminal.
LEARN MORE