markets
Trump Aside, It May Be Time for Markets to Worry About North Korea
By
The market 'should care more' about the danger: Citigroup

Buy 'way out of the money' dollar-won options to hedge: BOTM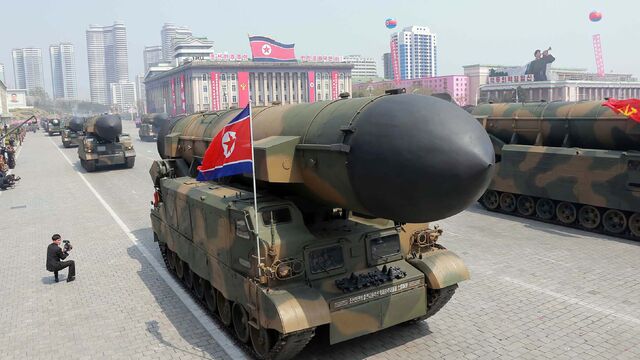 Investors may be glued to the latest political turmoil in Washington, but there's a long-present danger that's now looming larger for some analysts: North Korea.
"Financial markets need to care" about the risks from nuclear-armed North Korea, Citigroup Inc. analysts including Asia Pacific chief economist Johanna Chua wrote in a 40-plus page report dated Wednesday. Bellicose rhetoric and military provocation including nuclear-weapon tests are nothing new for the dictatorship in Pyongyang, but the analysts said there's "good reason to believe that risks are ratcheting higher now than in the past."
They cited the following reasons:
The North Korean regime has become more unpredictable under Kim Jong-Un.
The country's ballistic-missile program is making technological progress.
U.S. foreign policy is more unpredictable, with the Trump administration pledging to consider all options.
China has stepped up pressure on North Korea, spurring its neighbor's criticism, though China may still prefer a nuclear-armed North Korea than a failed state.
"It is tough to price anything other than higher volatility in the short-term, but there are clear risks to supply chains and to global confidence, as well as implications for capital flows that could upset market equilibria," the Citigroup analysts wrote.

Many episodes of tensions with North Korea over the years -- including the sinking of a South Korean naval vessel and multiple nuclear tests -- might have steeled investors' nerves. "Investors have become comfortable with the view that geopolitical tensions invariably blow over, that markets rally back, and the right trade is to buy the dip," Goldman Sachs Group Inc. analysts wrote this week.
Even so, Goldman analysts including Charles Himmelberg "find it surprising" the Kospi Index of South Korean stocks and the won had advanced so much this year. While equity and foreign-exchange derivatives signal somewhat more attention, there too the magnitude of concerns appears limited, they wrote. "We suspect that investors are more concerned than markets reveal. Recent improvements in the global growth outlook and record low levels of global volatility have likely made it too hard to hold shorts."
With the North Korean regime doubling down on missile launches, there's concern it will "test the resolve" of the U.S. and China, Citigroup said. If Pyongyang proceeds with a sixth nuclear test, actions including American "surgical strikes" on military facilities or intercepts of a North Korean missile couldn't be ruled out, they wrote.
The U.S. Navy is moving the USS Ronald Reagan aircraft carrier to the Korean peninsula, according to CNN, citing two unidentified defense officials. The carrier will conduct dual-carrier training exercises with the USS Carl Vinson and is ultimately expected to replace the latter in the region.
Cliff Tan, the Hong Kong-based East Asian head of global markets research at Bank of Tokyo-Mitsubishi UFJ Ltd., said in a May 12 note that "a higher risk premium may not necessarily be required" considering dangers from North Korea, though there are ways for investors to guard against periodic spikes in tensions:
"It may be wise to buy yen-won" when tensions rise, especially if Japanese investors pull money back to Japan.
"Those wanting long-term hedges will want to consider way out-of-the-money strikes in FX options, like USD/KRW=1500 USD calls and KRW puts."
For the Citigroup team, the yen would be an initial winner on any "major shock event," though in time could depreciate. The Australian and New Zealand dollars would fall, and Singapore's and Taiwan's currencies "also seem vulnerable to contagion," they wrote.
Other some further potential implications from Citigroup:
Heightened military activity or a breakdown of U.S.-China relations are the two most likely channels for any shock to global growth oil prices.
Japan and South Korea are tightly linked into global manufacturing supply chains, making any disruptions to their economies potentially producing global shortages.
Liquidity drainage from Japanese banks due to depositor worries is likely to be "globally significant" given their place in the global financial system.
Vietnam's rapid integration with South Korean supply chains could make it vulnerable; Vietnam's credit default swaps are expected to underperform.
Buying 5-year South Korean CDS while selling 5-year China CDS would be the "most cost-effective way" to hedge some exposure.
Qatar is at the top of "second-order vulnerabilities" thanks to 40 percent of its exports going to Japan and South Korea.
"A serious escalation of tensions between the two Koreas would clearly be bad for all global risk assets," and cyclical equities would be expected to underperform "everywhere."
(
Adds news of U.S. Navy aircraft carrier movements in 8th paragraph.
)
Before it's here, it's on the Bloomberg Terminal.
LEARN MORE